Thursday, October 25, 2001
mi6 is the Rodney Dangerfield of the local music scene. Though the quartet has racked up numerous accolades in its four years together, it remains one of the least respected outfits in the area � dogged by critics, ignored by the concert-going public and scorned by peers. Last year's appearances on the cover of The New York Times (see "Home for the 'Alcoholiday,'" Dec. 21, 2000) and the soundtrack to "That Darn Punk" didn't help either, merely providing more ammunition for Lawrence's underground elite. Then there are the labels � the comparisons and cries of imitation that still come frequently, according to singer-guitarist Ken Peterson.
"There's a lot of kids that don't know punk," he says, during a recent interview at the band's North Lawrence practice space. "They don't understand that it's a style of music and (doesn't) just belong to one particular band. 'You sound like Blink(-182), you sound like Screeching Weasel, you sound like Lagwagon, you sound like Green Day, you sound like The Offspring.' We get that all the time."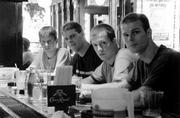 "A lot of people think that it's a criticism, but we grew up listening to those bands," guitarist David White explains. "It's flattering to have that influence in your music. Every band wants to say they sound different and have their own sound, but there's only seven (major) notes in music."
"I think a lot of it has to do with a bunch of guys in their 20s playing pop-punk," drummer Jimmy Coles adds. "It's not real attractive to people our age, they're not into that kind of music. For the younger people around here, there's not any all-age venues."
"I wouldn't say we're hated," bassist Aaron Riffel offers. "But people don't pay attention to us. You play five shows back-to-back and you're basically playing for the other bands and a couple of people that wandered in."
Kung Fu fighting
What: mi6, Sense of Self, Diversion 4.0When: 9 p.m. TuesdayWhere: The Bottleneck, 737 N.H.Ticket information: 841-5483What: mi6, Ghosty, Ultimate Fakebook, KJHK DJ battleWhen: 6:30 p.m. MondayWhere: Abe & Jake's Landing, 8 E. SixthTicket information: 312-7116
Shortly after issuing 2000's self-released "Alcoholiday," mi6 caught the eye of Kung Fu Records owner Joe Escalante, a founding member of legendary California outfit The Vandals, who signed mi6 to a three-album deal. With label mates that include The Ataris, Ozma and Useless I.D., mi6 joined an aristocratic punk family (Kung Fu also distributes a live release from MxPx as well as Blink-182's debut, "Buddha") that could help catapult the band into the big leagues. In fact, the quartet's association with the company helped it snag a desirous opening slot on the Warped Tour when it stopped at Sandstone last summer.
For its Kung Fu debut, "Lunchbox," mi6 spent 13 days honing 17 tracks, trimmed to a dozen for the finished record � half the number found on "Alcoholiday's" sprawl-fest. At the label's insistence, five songs from mi6's debut ("Lezbian Girlfriends," "Jeff Brown," "Mojo," "Another Day" and "RX7") were rerecorded for the group's national unveiling.
"When we sent them 'Alcoholiday,' Joe was like, 'OK I want this song and this song and this song," Riffel recalls.
"We fought 'em on a couple of 'em," Peterson says. "But we were willing to redo a couple, just because we knew that the recording session would be so much better than it was the first time. We wanted to hear what they would sound like, especially 'Another Day,' which is off our demo."
Though arrangement differences between the revamped songs and their "Alcoholiday" counterparts are negligible, the newer recordings benefit significantly from cleaner production and a small but noticeable increase in tempo. "Jeff Brown," Peterson's tart-tongued response to a local critic's negative review, didn't blow up on the 'Net by accident. With cleverly playful lyrics, an infectious, gum-snapping backbeat and a chorus that sticks to the brain like cranial fluid, it may well be the prototypical mi6 song. The inclusion of "Mojo" also proves an astute move: Peterson's Bambi-eyed tribute to his wife remains one of the group's most unapologetically unhip moments � exactly what makes it so cool. Though the band professes pleasure with the remade material, there were initial reservations about Kung Fu's hands-on approach.
"It was at first kinda hard having someone tell you what you should do and what song you should record," Riffel admits. "But the fact is they own us, they own the songs � they do have the right to say what goes on there ..."
" ... to a point," Peterson finishes firmly. "We took some of their advice, and some of it we didn't. That's the cool thingabout Kung Fu: They've given us a lot of freedom. We doubled the budget they gave us to do what we wanted to do. They said, 'Go, just do it. Do what you guys need to do � wherever you want to mix it, wherever you want to record.'"
mi6 spent its advance close to home, recording at Kansas City's Westend Studio and hiring Shiner bassist Paul Malinowski (who performed engineering and mixing duties on "Alcoholiday,") as producer.
"Paul is amazing," Riffel enthuses. "He's a real quiet guy, and when we first started working with him, we weren't too sure if he didn't like us or something like that. But once he kind of gets to know you, he loosens up. He really got dialed in to what we were doing."
Malinowski's production touches include "1-900," which begins with a plaintive Peterson backed by a sole acoustic guitar before the band roars to full-throttle life a minute later. As with a couple other "Lunchbox" numbers, a subtle keyboard line snakes into the final moments of the tune, hinting at new directions mi6 may take on future projects.
"We did a little bit of experimentation on the new album with some keyboards, which I think turned out kind of cool," Peterson says. "We did some acoustic stuff on it, which we hadn't done before and we obviously don't do live. There's no reason that we won't experiment with other instruments down the line. It's all about making good music."
Captain Geek Divine
For Peterson, making good music involves taking the personal and transforming it into something that goes beyond the self. The first words out of the singer's mouth � "you think that I'm not cool" � come just seven seconds into "Lunchbox's" opening number, setting a bemused-but-downtrodden tone that sticks around for the rest of the album. Barbarians are constantly at Peterson's lyrical gate: Peers poke fun of his dorky clothes, critics sneer at his "uncomplicated" music and women are a complete mystery. If the mi6 frontman � who calls himself a "burned-out loser ... Captain Geek Divine" on the title track � suffers from low self-esteem, he certainly earned it the old fashioned way.
"I got a lot of that growing up," Peterson explains. "I was a skinny little pizza-faced dork. I was a big 'Miami Vice' fan when I was a kid, and I dressed that way and the kids made fun of me for it. You know, the pink shirt, the white jacket, no socks with the loafers on. It's things like that. I'll sit at home thinking about a topic and I'll remember something that happened as a child or that's happening to me at that point. I wouldn't change it for the world; I liked who I was growing up. I'm not ashamed of anything I ever did."
Peterson's confessional lyrics are often supplanted within deliberately simple three-chord progressions, providing a modicum of irony and humor where hopelessness might otherwise prevail. Pulling off that sonic trick probably has something to do with perspective. Though Peterson may still consider himself a teen-age geek at heart, he's also a full-grown man � a husband and father with all the commitment and responsibility that entails. With Riffel's recent marriage to Ready singer-guitarist Anj Stevenson, one assumes mi6's musical interests will continue to expand as the members ripen into adulthood.
"We've actually written (and recorded) a couple of songs that way," Peterson affirms. "They were a heck of a lot more mature than anything else on the album, but they didn't quite fit with the rest of the songs. They'll make great B-sides or go on a comp or something. Eventually, every band's gonna steer that way. Part of the challenge now is actually to keep the songs more simple than we tend to want to make them. Because you can over complicate a song, and then it just sounds bad."
Stepping up, stepping out
For mi6, the most important step in getting "Lunchbox" out to the public is getting out of Lawrence and onto a national tour. After all � as groups like The Anniversary have shown � sometimes a local band has to become a popular out-of-town draw in order to fill hometown venues.
"It's still stagnant," Riffel says of the area music community. "If you're into a certain genre of music here, you do well."
"But there's not even that, really if you look at it" Peterson adds. "The music scene in general here is not doing as well as the early '90s when the places were packed every night ... We thought about (moving) a long time ago, but it was never really put on the table. We're all pretty settled right now. It's better for us to stay where we are because of our location; it's easy to get to so many different places from where we are."
To date, mi6 has done very little touring outside the Lawrence/KC region, something the band plans to rectify in the coming months. With a high-profile label like Kung Fu backing them, the members of mi6 are more than ready to reap the rewards the road has to offer.
"They're waiting for me to graduate," smiles Coles, a biology/chemistry major at the University of Missouri-Kansas City, who's scheduled to complete his degree this December.
"The agenda is to play," Peterson declares. "We need to get out and play to support this album. We need to let people elsewhere know that we exist; we just want to play. That's what this whole band was about in the first place. None of us ever thought we'd get a contract with a record label."
Riffel agrees, adding, "It could all go to hell in a hand basket right now and we'd be happy."
Of course, mi6's detractors would surely be thrilled to celebrate just such an occasion. Unfortunately those haters will just have to wait a little longer. The mi6 members have fought tooth and nail to get where they are � and they aren't going away any time soon.
More like this story on Lawrence.com