Thursday, October 25, 2001
At 32-years-old, Kelvin Mercer seems far too young to be considered a legend. On the other hand, given that Mercer ? better known for his stage alias Posdnuos ? founded one of hip-hop's most important bands during his senior year of high-school, the title starts to make sense. After all, it was Pos, alongside fellow MCs Dave "Trugoy" Jolicoeur and Vincent "Mase" Mason, who founded De La Soul, a band that helped take hip-hop from its street-spartan origins to the stages of the world.
The band's 1989 Tommy Boy Records debut, "3 Feet High and Rising," remains one of the most influential efforts in the history of hip-hop, a psychedelic primer for the new aural age. With its kiddie-corn cover art, cartoonish skits, intelligently playful lyrics and bizarro samples, "3 Feet" helped spark a mini revolution that was diametrically opposed to materialistic gangsta rap as well as the politically charged rantings of peers like Public Enemy. De La's colorful videos and peaceful vibe earned the band a hippie label, something the group members didn't try hard to discount at the time, proclaiming publicly that the "D.A.I.S.Y. age" (Da Inner Sound, Y'all) had arrived.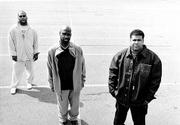 Though "3 Feet" was a hit, the ensuing backlash caused a career tailspin from which De La never fully recovered. Artistically however, the trio got better, taking the promise of its eccentric debut and running with it. The title of the group's 1991 sophomore effort spoke volumes: "De La Soul is Dead." With cover art that showed only a broken flower pot with a daisy rotting in the remains, it was clear that De La was snuffing out any notions of being a band of hippies. A brilliant sonic adventure brimming with innovation and imagination, "Dead" helped garner the group some much-needed street credibility, all but killing its mainstream audience in the process.
The complex intricacies of 1993's "Buhloone Mind State," followed by the stripped-down self-produced "Stakes is High" in 1996, further removed the trio from the public eye but continued to earn the group critical shout-outs and respect from underground beat junkies. The trio also influenced scores of up-and-coming young acts, including groups like Digable Planets, Jurassic Five and Dilated Peoples whose style and sensibility were lifted straight from the pages of the De La playbook.
Last year De La returned with "Art Official Intelligence: Mosaic Thump," the first in a three-disc trilogy designed to reintroduce the trio to mainstream audiences. Littered with Jeep-worthy beats and high-profile guest appearances (Redman, Chaka Khan, Busta Rhymes, Beastie Boys) not found on previous releases, "Thump" seemed perfectly poised to put the group back into the limelight. However, reaction was mixed, with some longtime fans lambasting the record as a total sell-out and others calling it part of De La's ongoing musical evolution.
Regardless, no history of hip-hop would be complete without mentioning the Amityville, Long Island, trio, who continue to inspire and influence the mainstream from the depths of the underground.
What: De La Soul, Biz MarkieWhen: 9 p.m. TuesdayWhere: The Granada, 1020 Mass.Ticket information: 842-1390
Q: Has it ever been tough for you as a positive artist working in a field where gangsta rappers get so much respect?
A: "People are gonna do what's easier to do. It's harder to pick up yourself and be positive. It's harder to not wanna smack somebody because they did something wrong to you and say, 'It's cool man.' It's harder to do that. It's been switched around to make you think that something that's harder is now considered a punk. But that's just how the world is. We want people to love and connect to the sound. Unfortunately, with the industry we're in, it's not really about the sound, it's really about the character. You enjoy this person because of the character he or she or they are, and the sound kind of comes second. Even as incredible as Common is, now that he's on a better label that's putting better light on him, girls like him because he looks cute. Then they focus on his lyrics. That's unfortunately how it is, and that's something that we have not wanted to be a part of. When the whole hippie thing was out there, it was something that press said. We was already dressing (like) that. It was publicists trying to make us into something."
Q: You've tried different styles and sounds on all your records. In retrospect, are there any that you're not happy with artistically?
A: "Pretty much all the albums I was happy with, especially the later ones because whatever we set out to do, we either accomplished or did more. '3 Feet High and Rising,' I wasn't really happy with it when it was finished. There was so much more I wanted to do. That Slick Rick album ('The Great Adventures of Slick Rick') had just dropped out right before ours, and I heard it and I thought his was so incredible, I wanted to go back in. But nothing really tops '3 Feet High and Rising' because it was my first experience. Nothing really tops it for that reason. It was our first time trying this and being in a vocal booth and learning. But right now, I love where we're at."
Q: Do you think De La would've broken up if you'd sold two or three million records each time out?
A: "No I don't. Even amongst the most popular album, '3 Feet High and Rising,' there were likes and dislikes we already knew and had about us, and had already assimilated. We care about each other to work through it, and that's what I truly love about our group. Obviously, even in someone like A Tribe Called Quest, you had someone like (Q-)Tip and Phife who knew each other since kindergarten ? they had their differences and maybe that helped play a part of them breaking up. With us, we've known each other less time than them, but as individual people, we're all about working things out. We're not gonna let something petty break up a great union ? and I don't even mean the union of De La Soul ? (but) the union of our friendship. There's times when I can't stand Dave, but at the end of the day, I love him. We get through it, and two days later we're cool. We've been friends before this, so that's why us being together and staying in this as long as we have, hasn't been a problem. There could easily be a time where one of us could be like, 'As an individual, I am tired of this and want to move on.' But it won't ever be because of problems or a fight or anything dumb like that, because we got so much love for each other. We LOVE making music, so we gonna continue to do it, even when it's time to stop doing it. We all still have equipment in our house, and our kids are catching on to it now ? seeing what talents we can pull out of them, if they want to pursue it."
Q: You've also inspired a lot of younger bands. Does it bother you that some of them have been so obviously influenced by De La's sound?
A: "It doesn't bother me at all, but it's not something that makes me feel better or anything like that. I've had the pleasure to meet them cats, and they're really good people as people and I love what they do. These cats respect what we do because we always remained true to what we are and what our path was. We never really veered off it just for the gain of money or something else. But I'd never take it upon myself to say that Black Eyed Peas and J5 ? and even from several years ago Pharcyde ? took what we had and carried it on. I'm a fan of hip-hop and rap and everything that I could apply to that, is the same thing I apply to myself as far as what Run DMC, Kool G. Rap and Rakim did for me. And even beyond that, those cats ? J5, Roots, Mos (Def) and Common ? are still doing for me. When I hear new cats come out, they charge me up. So it's like, 'Yo, let's put the whole pedestal thing down. I'm a fan of your music and you're helping me.'"
Q: Were some of your hardcore fans put off by the commercial sounds or all the guest stars on "Mosaic Thump?"
A: "It's pretty much like that with every album. You gain people, you lose a couple, you bewilder a couple, and then with certain people that were bewildered before, it connects. It's really hard to get everyone on at every angle. But I think the majority of De La Fans, at the end of the day, know that we're coming sincere from the heart with what we're trying to do. When we do it, we try to perfect it and do the best we can at it. And we have gained a lot of newer and younger listeners due to different side artists we had on the last album. But I think even with that, that brought them in to then realize the talent that we had and now they appreciate De La Soul for De La Soul. When we hear a certain song, we'll say, 'This person would sound good on this. Let's see what we can bring out of that person and what they would bring out of us.' We're really not doing it for radio's sake. But I try to let people know that this is my job. Beyond it being a fun job, this is my job. So I am going to take heed to what I need to do to succeed. But I'm not going to ever do nothing I'm uncomfortable with. I'm not uncomfortable with Redman, because I love Redman. Redman is one of my favorite rappers and he fits into the realm of what we're about."
Q: Do you think you guys have been given the credit you deserve?
A: "No, but it's cool. If any type of book (about hip-hop) is written, there's gonna be at least four pages about us. But I think there's a lot more that exists within our group and a lot more that we have to show. With the nature of this business, it's been a harder road to show it. But on a positive level, we use it for us, rather than against us. We don't get bitter about those things; we use them as fuel to continue to try to make better music. It's just like with '3 Feet High and Rising' ? I tell people everyday: 'I wanna sell records,' because I love people hearing and knowing what I do. I would never sacrifice what I believe in to do it, but I want (to do it) like I naturally did, and what I naturally produced, and what I naturally rhymed on ? or what we all came together to do on '3 Feet High and Rising' ? I would love to see that happen again. We realize now that it's strictly a business. It has not too much to do with talent. It's the label that you're with, the ties they have, who you know, who you're in bed with. Like, 'OK I'm Def Jam (Records) and I got seven hot artists. So I need this one artist to use this person, and then you let me use this person and I'll let you use that person.' Unfortunately, the label that we're on, they don't have bargaining tools like that, because we're pretty much the only rap group on there that has a name that people like yourself will show respect to and want to interview. There's not other rappers up there. Everlast? That's where we are with it, within the business. It's all about your bargaining chips."
Q: Were the three "trilogy" albums a way to fulfill your contract with Tommy Boy and get out of your deal?
A: "Well, it WAS. We came up with the idea to do (a triple CD) and we had two more albums left. We put the entire trilogy together off a one-album budget, but we didn't think Tommy Boy was gonna be with it. Then Tom Silverman, our president, was like, 'That's a great idea. My only problem is, as long as it take y'all to put albums out, y'all sitting waiting to put out an entire three-album set would take a decade. Why don't you put three albums out separately, which would be a cool idea. Plus, that would turn around and you can treat each album as separate albums, which means you have separate publishing, separate blah blah blah.' That in turn made us realize that our contract would be up because these would actually be considered three separate albums, and he knew it. But then he came and threw more money in our face, and we wound up negotiating for three more albums. It was something where we saw a newfound energy in him; he was participating in the label more. And when the album came out, we realized that was just dreamin' and he was back to his same old (expletive) again. So now it's something that we really regret doing. After the next two parts of the trilogy, we have three albums (with Tommy Boy) after that. They're gonna come quick. One of them will be a joint with (longtime producer Prince) Paul, maybe even a solo album or something from one of us, then get the (expletive) out of there. We're gonna break as quick as we can."
More like this story on Lawrence.com