Tuesday, September 4, 2001
Los Angeles — Actress Anne Heche, 32, married cameraman Coleman Laffoon, 27, on Saturday during a ceremony held at a villa near downtown Los Angeles, according to the AP.
The couple met while Heche was making a documentary about then-girlfriend Ellen DeGeneres' return to stand-up comedy, following the cancellation of her ABC sitcom "Ellen."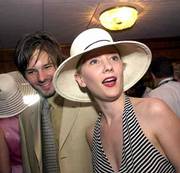 Heche and DeGeneres parted ways in August of last year, after having been together for three years.
Heche and DeGeneres instantly became America's most prominent lesbian couple when they went public with their love affair in the spring of 1997.
That announcement came shortly after DeGeneres's character came out of the closet on the ABC series "Ellen," making her the first openly gay lead character on U.S. network television.
The wedding was attended by about 75 friends and family members, says Heche's publicist, Brad Cafarelli.
Cafarelli said that the couple will honeymoon after Heche conducts a 10-city book tour to promote her autobiography, "Call Me Crazy."
In addition to her film career, Heche is developing a TV series with Warner Bros., while her ex has a new CBS sitcom of her own this fall and is hosting the Emmy Awards on Sept. 16.
More like this story on Lawrence.com