Thursday, September 6, 2001
Music fans attending their first Thulium show might be surprised to find that the raucous Kansas City, Mo., power pop quartet doesn't cater to the mosh pit crowd.
"We're the only local band where the whole front row is always female," guitarist Bryan Chesen grins, noting that his band once considered titling an album "Girls with X's."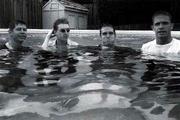 "Girls don't want to hear math rock," drummer Jeff Polaschek explains. "They want to go out and drink and shake their head back and forth and have a good time. And that's what we do. We have a good time; we put on a show. And if the girls love it and come up front, so be it. Thank God, somebody likes what we do."
Always critical underdogs on the local music scene, Thulium has endured its fair share of struggles in a quest to achieve sonic success: being compared to lesser bands, playing hummable three-chord ditties alongside growly death metal acts and getting slagged by most of its peers.
After a few months on hiatus, the retooled group has returned to area stages in earnest, prepared to do whatever it takes to prove that the "girls with X's" may be onto something.
Blue tape blues
Thulium's origins are humble ones. The group (Chesen, Polaschek, vocalist Matt Groebe and bassist-vocalist Drew Scofield) began in the summer of 1995 when four Shawnee Mission West High School students got together under the moniker M.I.P. Playing its first gig in Groebe's garage, the burgeoning band pounded out Weezer and Green Day covers for a minuscule audience consisting of friends and a handful of curious onlookers.
"We literally learned to play our instruments right before the show," Scofield laughs. "We did not know anything."
What: Thulium (free all-ages acoustic show)When: 9 p.m. MondayWhere: Kasper's Bar & Grill, 3115 W. SixthTicket information: 843-9621
"And I was the opening act," Polaschek chimes in. "Jeff Comedy Jam. It was the worst thing ever."
Within weeks, the newly formed band changed its name to Thulium, the (wink wink) 69th entry on the Periodic Table of Elements.
"Half the people we talk to are like, 'That's the coolest thing ever,'" says Groebe. "And the other half are like ..."
" ... 'Good luck with that, guys,'" Polaschek laughs, finishing the singer's sentence.
"I don't like having to explain to my grandmother what it means," Groebe deadpans.
A four-song EP, "The Blue Tape" (a tongue-in-cheek title nicked from Weezer), was recorded in December 1996, but Thulium was mostly defunct due to college commitments and other interests. Groebe spent time at Washburn University, Kansas University and Johnson County Community College. Scofield and Chesen both attended KU, but had fairly different experiences. Chesen took full-time classes for four years, graduating with a degree in psychology last spring. Scofield opted for the slacker route.
"We both went to KU our freshman year," the bassist drawls. "Then I decided to just sort of not go to class. I went to JuCo ... well, I enrolled in JuCo a few times. Sometimes I remembered to withdraw, sometimes I didn't."
During the late '90s there was little serious Thulium activity. With Chesen concentrating on school, a gig here and there was all the time the guitarist could spare. Interestingly, it was during this era that the barely functioning group was offered a major label deal by an unscrupulous wannabe industry mogul.
"He was the devil," Scofield laughs. "It was literally like, 'Sign here, brawhahaha.'"
"He was like, '(Pay me) $50,000 and I'll get you a CD,'" Chesen recalls. "We pay him to put out a record. And we were so young, it was horrible. He was like, 'You guys are good.' He was totally preying on weaklings. I said, 'No,' (because) I was in school and I wanted to be with my girlfriend. Thank God, we didn't sign."
"We'd still be paying that off," Scofield half-jokes.
Thulium spent this time working with various lineups, auditioning different musicians and searching for a sound and personnel that felt right. Guitarist Steve Nick tried out and ended up staying for three years.
With Nick onboard, the band completed two recordings early-on, a self-titled full-length CD in 1997 and an EP, "Mars Needs Pimps Too," the following year. Unfortunately, Thulium wasn't particularly thrilled with either effort, considering them learning experiences rather than "real" releases.
"We were dumb," Scofield laughs. "We didn't even tune our guitars."
Telling 'Secrets'
Around the time Chesen was set to graduate from KU, Thulium began to take itself more seriously. Eager to preserve its live energy in the studio once and for all, the band hired local producer J. Hall (Danger Bob, Paw) to man the boards for its sophomore effort, "The Secret Club."
"It was the most fun I've ever had recording," Polaschek says. "It was like camp."
"Secret" was recorded at Wheeler Audio in Kansas City, Kan., where the band found Hall's Stanley Kubrick-style perfectionism both frustrating and rewarding. During one session, Chesen was forced to play a single guitar line 86 times before nailing the part.
"I was using this Ibanez guitar," he remembers. "The pickups were all rusted. There were literally spiders crawling out of it. I was so frustrated, I was almost crying. Then I put on Steve's Stratocaster and played the best I'd ever played at that point."
The "Secret" sessions also yielded "21," a 30-minute boozefest that captured the band drunkenly making its way through an acoustic folk number, straining to hold onto the last gasps of sobriety.
"We were sitting around getting drunker and drunker and drunker," Scofield recalls. "The picture on the back of the album is sort of the aftermath of it. We kept screwing up and joking around. We just decided to put the whole thing on."
After two weeks of solid studio work, "Secret" was completed, marking a great leap forward in Thulium's recorded history. Songs like "Math Problem" and "Type-U-Negative" showed off the band's flair for blending stomping power pop with punchy backbeats and wry lyrics.
Clique tracks
Also sardonic was the album's title, which referenced the area music scene, a tightly knit collective of musicians that wasn't interested in having Thulium join the local elite.
"The whole idea behind 'The Secret Club' was: We were in a band that wasn't as popular as ... Creature Comforts, (Ultimate) Fakebook, Frogpond, Get Up Kids, it's just a big clique," Chesen explains. "They're all friends. Some of the members even switch out for different bands. So they're like a secret club of bands (and) no one can ever break into their circle."
"There's us and mi6 and a couple other bands," Groebe says. "We're the underdogs."
For the members of Thulium, it comes down to their music, which they say gets no respect from the area music clique.
"We're on the outside here on the local scene because we play pop music," Scofield says. "Whereas everyone else plays the go-in-their-own-direction kind of stuff, but they're actually all kind of doing the same thing."
"Maybe (we're) not challenging enough for them or they don't see the musicianship in it or whatever, but they just have no respect for it," Polaschek says. "And we work hard and believe in our songs just as much as they do, they just don't buy it. They call us sell-outs, but we've been doing this all along. It's the music that we grew up liking, like Weezer and Green Day. Pop music is what we know and what we like. To be bashed for playing what we like, it's just like, 'Thanks. Whatever, man.'"
"They hate us," Chesen adds. "All they ever talk about is how we fill up The Bottleneck and how we're all frat boys and jocks. We are anything but that, but we got this reputation. So there's kind of an irony."
Four-part harmony
Last April, Thulium issued walking papers to guitarist Steve Nick, severing ties and returning to its original four-piece lineup.
"We had been unhappy with Steve," Chesen explains. "(We) had one opinion, he had another one. Creative differences. It didn't get too messy or anything like that; he didn't want to be with us if we didn't want to be with him."
"It's one less person that was, in a way, holding us down," Polaschek says. "Not to be like 'I hate Steve' or anything. We just started out as a four-piece, without him. With him gone, it's like the rebirth of Thulium. This is it. We could use another guitar player in some spots, but Thulium will never be a five-piece."
The band immediately reentered the studio and recorded two new songs, a declaration of its newfound status as a quartet and commitment to getting its music heard again. Reinvigorated, Thulium has gone all-out in its quest to make a regional splash, playing gigs in nearby cities where the group doesn't have a reputation preceding it. As a result, Thulium is now finding its concert schedule filled to the brim.
"Things have been starting to roll," Polaschek says. "We don't have a free weekend until the middle of October. We're used to playing two or three shows a month. Now we're up to like 10 or 11. We're broke, but we're playing lots of shows."
More like this story on Lawrence.com