Thursday, September 13, 2001
"Somebody, anybody, God help, help me please. I want to be accepted. I have to be accepted. I'll wear any kind of clothes you want! I'm so tired of crying and dreaming, I'm soo soo alone. Isn't there anyone out there? Please help me. HELP ME!"
� Excerpt from Kurt Cobain's 1993 journal.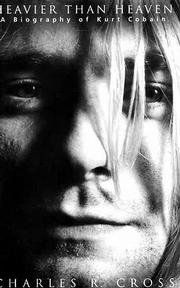 More than seven years after his death, Kurt Cobain remains one of rock's most enigmatic figures. Though numerous books have already been penned about the Nirvana frontman, Seattle music writer Charles Cross has a go with the recently published "Heavier Than Heaven." While the author doesn't add much insight to Cobain's personal history, he did gain access to the musician's personal diaries, shedding new light into the corners of one of rock's darkest minds.
As it turns out, Cobain was an obsessive journal-writer, scrawling page after page of text throughout his life. Bits of song lyrics, unused liner notes, unsent letters and bleak reflections on the world are all found in the pages of Cobain's diaries. Snippets of these unsettling manuscripts � published for the first time � are intertwined with Cross' steady prose, making "Heaven" one of this year's more compelling rock tomes.
For example, an early draft of "Smells Like Teen Spirit" contained a totally different chorus than its recorded counterpart: "A denial and from strangers/A revival and from favors/Here we are now, we're so famous/We're so stupid and from Vegas." Another unused line contains one of hundreds of references to suicide: "The finest day I ever had was when tomorrow never came."
Punk fabrication
Cross spends a fair amount of the time debunking Cobain legends � pure fiction created mostly by the musician himself in the great tradition of punk-rock mythmaking. Therefore, readers discover that Cobain never lived under an Aberdeen, Wa., bridge as a teenager, his first concert was not Melvins but Sammy Hagar and he wasn't nearly as opposed to stardom as he let on. According to his managers, Cobain complained incessantly about Nirvana videos not getting enough airtime on MTV, simultaneously griping to the press that they were overplayed.
Cross interviewed hundreds of Cobain's friends, family and associates in researching "Heaven," but � at a mere 400 pages � the author obviously didn't spend much time with any of them. On the other hand, it seems that just about everyone who knew (or claimed to know) Cobain gets to throw their two cents in. Thus, "Heaven" offers a broad overview rather than focusing on the key characters in Cobain's life: Courtney Love, his parents and Nirvana bassist Krist Novoselic, all of whom speak candidly when allowed.
"He was camped out there," says Novoselic, discovering a smacked-out Cobain hiding in a dingy Seattle motel weeks before his death. "He was delusional. It was weird. He was like, 'Krist, where can I buy a motorcycle?' I was like, '(Expletive), what are you talking about? You don't want to buy a motorcycle. You've got to get the (expletive) out of here.' ... He was really quiet. He was just estranged from all his relationships. He wasn't connecting with anybody."
While these recollections are certainly chilling and part of the larger Cobain story, the author tends to let them speak louder than the musician's most voluminous personal statements: his music. Cross methodically documents dozens of accounts of Cobain using heroin and other drugs, but ignores much of the musician's prodigious output. For example, when discussing Nirvana's final studio effort, "In Utero," the author offers a lengthy discussion about the merits of "Heart Shaped Box," but merely skims (or ignores) the rest of the tracks. To Cross' credit, when he does focus on the music (usually bolstering his words with Cobain's unused lyrics and liner notes), he does a fine job, but a musician of Cobain's stature deserves a more thorough artistic examination.
Love connection
Cross' other omission proves to be "Heaven's" true fatal flaw. The author steadfastly refuses to engage in any discussion as to whether Cobain's passing could've been something other than a suicide. While the deaths of rock stars ranging from Elvis Presley to Tupac Shakur have been linked to various conspiracy theories, Cobain's demise is treated as inevitable. Had Cross dared to take a closer look, he might've raised some interesting questions.
In an interview with The Mag earlier this year, Cobain mentor/Melvins frontman Buzz Osbourne (also interviewed for "Heaven") insisted that Courtney Love was behind the fatality.
"Who else would it be?" he asked. "It doesn't matter, there's nothing I can do. Even if I think that, no one is going to believe me anyway. I'd be the one that would be considered an idiot, so it's just better to leave it at that. People can go out and gather the evidence and look at it and judge for themselves. If after looking at all that, they decide that she's completely innocent, so be it."
The "evidence" Osbourne referred to includes:
1. Cobain and Love were � according to family attorney Rosemary Carroll � preparing to divorce. Cobain had requested Love be removed from his will in the weeks prior to his death. Love had requested Carroll find "the meanest, most vicious divorce lawyer she could find."
2. There were no legible fingerprints on either the shotgun or the bullets found near Cobain's body.
3. Cobain had ingested three times the maximum lethal dose of heroin, which would immediately incapacitate even the most tolerant addict. Many have said that it would've been impossible for Cobain to carefully put his drugs away and then shoot himself, as he apparently did.
Cross refutes these and other claims, without bothering to mention that there were ever questions raised about Cobain's death, defending Love but not stating that she's been accused. This arrangement allowed the author to gain access to Cobain's diaries, but it also compromised his objectivity. Furthermore, it makes Love � an abrasive personality portrayed with slathering sympathy � look like she's got something to hide.
Instead "Heaven" merely ends with Cobain's death, never delving into the robust afterlife his legend continues to enjoy. The definitive Cobain biography has yet to be written. Cross' book is certainly worthwhile, but it ultimately tells only part of the story.
A much more interesting read would be Cobain's unedited diaries, which � if ever published � would certainly offer a more unflinching look into one of rock's most complex psyches. Until then, readers will simply have to settle for the Courtney Love-authorized excerpts.
More like this story on Lawrence.com