Thursday, September 20, 2001
Tech N9ne, "Anghellic"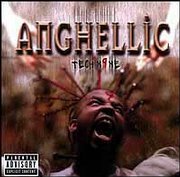 Kansas City, Mo., rapper Tech N9ne's major label debut entered the pop charts at No. 59 two weeks ago, an amazing showing for a local artist and an affirmation of just how far Aaron Yates has come.
Although Tech's dense, rapid-fire verses have appeared alongside Tupac ("Thugs Get Lonely Too") and he traded verses with Eminem and Xzibit (Sway and King Tech's "The Anthem."), mainstream success has eluded him to date. Well-known in the area for uptown anthems like "Planet Rock" and "Let's Get Crunked Up" (with KC rap group 57th Street Rogue Dog Villains), Tech is easily the most prominent figure in local hip-hop. With a major label deal (via JCor, a division of Interscope) and industry heavyweights like Quincy Jones and Violet Brown batting for him, Tech certainly seems poised to hit a home run.
The epic 76-minute "Anghellic" is divided into three sections: hell, purgatory and heaven and the tracks are similarly varied a bit of hardcore here, a smattering of acid rap there, some rock rap here. The hell tracks are appropriately dark. "Tormented" is pure RDV crunk, but the humor turns black on "Real Killer," perhaps hip-hop's first abortion fantasy. "Cursed" finds Tech dropping Hollywood names (Tupac, Chris Tucker) but remembering to give props to KC. The frightening and funky "Suicide Letters" ends the hell section on an ominous note.
The first purgatory track, "It's Alive," pairs a jungle beat with Tech's patented million-mile-an-hour flow, a nod to the OutKast school of weirdo rap. The song is already a regional hit and seems like a worthy choice for first single, different enough to stand out from the phoned-in production that plagues so many up-and-coming rappers, while still showing off Tech's mindbending flow.
The superb "Einstein" contains a headbobbing beat that won't quit, as well as an intense vocal performance, even from an MC who generally doesn't register less than a 10 on the gusto scale. If Tech's label got behind this song, it would undoubtedly launch the rapper into the stratosphere's of success to which he aspires. On the other hand, Tech's visits to purgatory and heaven aren't nearly as interesting as his voyage into hell. (Isn't that always the case?) "Planet Rock" is remade once again (as "P.R. 2K1") to little effect and booty-clapping tracks like "Here I Come" are pure filler.
Tighter editing could've cut some of the fat, but overall Tech's probably the best representation of what KC gangsta rap has to offer. The artist sold 15,000 copies of "Anghellic" the first week. The question is where it goes from here.

The Midday Ramblers, "Free Country Music"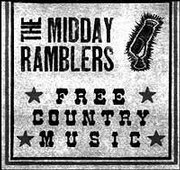 "Free Country Music" is a perfect title for the recently released CD from Lawrence's Midday Ramblers. Perfect because it aptly describes the band's wide-open bluegrass stylings and also acts as a manifesto of sorts to untether country music from the shackles of Shania.
The group got its start more than four years ago on KAW FM, Lawrence's short-lived-but-sweet pirate radio station, where the band members hosted a show called "The Midday Ramble." The program's popularity led to local gigs, and the act stayed together after the station was forced to shut down. On "Free," the quartet tears through 15 songs in less than 40 minutes, clearly having a blast and barely surfacing for air.
The Ramblers play their instruments the same way Tech N9ne raps: 90 mph switchin' lanes like Whoa! The disc is both traditional and traditional-sounding, but there's little in the way of lonesome laments here. Instead the Ramblers keep the tempos at full-throttle, sounding like the clear-eyed cousins of The Asylum Street Spankers. Like that all-acoustic Texas band, the Ramblers are purists who like their music stripped to the bone and sweetly harmonious.
The Ramblers' lack of fiddle and percussion gives the pickers plenty of elbow room and they make the most of it. Mandolinist Kory Willis, guitarist Mike Horan and banjo player Leo Posch trade smart, spidery licks on the instrumentals "Going Down To Willow Creek," "Lone Oak" and "Hay Fever," soloing with vigor on the remainder. Utilizing a mixture of original tunes and well-chosen traditional numbers, The Ramblers offer a refreshing contrast to the artsy emo, garage rock and hip-hop that often hog the Lawrence music spotlight.
Though the sleeper success of the "O Brother, Where Art Thou" soundtrack has reawakened an interest in traditional American music, The Ramblers probably won't be capturing hearts across the nation anytime soon. That's probably a good thing, as sometimes the best musical secrets are those that are well-kept.
More like this story on Lawrence.com