Sunday, September 30, 2001
Flutists Paul Horn and R. Carlos Nakai will present a concert at 7:30 p.m. Saturday at the Lied Center.
Horn is known as the "godfather" of new-age flute music and master of the European flute. His musical, personal and spiritual quest has taken him around the world several times, leading him to record in exotic places and return with eclectic influences.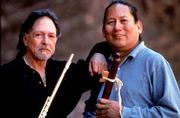 Nakai's use of the cedar flute has been called evocative, ethereal and sensuous. In addition to his music, he entertains his audiences with thoughts about everything from American Indian folklore to the orchestration of Mozart. He blends his classical training with his cedar flute expertise and plays in jazz ensembles, piano and guitar collaborations and the concert hall.
The show will last one hour and 50 minutes, with a post-performance talk-back afterwards.
While in Lawrence, Horn and Nakai will participate in a number of residency activities, including:
� Friday: Artists' Roundtable, with playwright Bruce King, 7:30 p.m., Haskell Indian Nations University.
� Saturday: "Beyond November: Exploring Native American Indian History, Arts and Culture," Kansas University Continuing Education Workshop, 9 a.m.-3:30 p.m., Haskell University.
The Civic Dialogue Project is a three-year effort that includes the exploration of American Indian performing arts in order to facilitate a better understanding between American Indian and non-Indian cultures.
Tickets range from $11 to $27. Tickets are available at the Lied Center Box Office, 864-ARTS; Murphy Hall Box Office, 864-3982; Student Union Activities Box Office, 864-3477; KU Medical Center Bookstore; Ticketmaster outlets, (785) 234-4545 and (816) 931-3330; and online at TICKETS.COM.
More like this story on Lawrence.com