The Seem-To-Be Players is bringing its show about a little mouse to the biggest theater it has ever called home.
"Stuart Little" will be staged Saturday and April 21 in the 300-seat theater at the new Lawrence Arts Center, 940 N.H.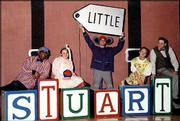 "It's been all over the country," said Ric Averill, artistic director for the Seem-To-Be Players. "We're excited about coming home and performing in a real professional space."
"Stuart Little" began its three-month tour in March in McAllen, Tex. So far the show has been staged in venues in South Carolina, Delaware, Connecticut, Ohio, Virginia, Maryland, New Jersey, Iowa, Missouri, Wisconsin, Michigan and Illinois.
After its two-day run in Lawrence, the cast will return to the road for shows in southwest Kansas, Missouri, Oklahoma, New Mexico, California, Oregon, Utah, Idaho, Washington and Wyoming.
In March, Averill said, the cast � Daemon Hatfield, Shawn Halliday, Lauren Stanford, Harvey Williams and Piaf Latham-Winter-Green � participated in 17 performances in nine cities in nine states. They performed before 12,000 students.
"We already have three bookings (from venues) that want us back next year," he said.
"Stuart Little" is adapted by Joseph Robinette from E.B. White's classic children's book. Stuart is the second son born to the Little family in New York, and all are surprised when they realize he is a mouse.
Undaunted by his size, Stuart has great adventures. He evades vicious cats, wins a yachting race, becomes a successful substitute teacher, falls in love with a bird and learns what it takes to be a man � or, in his case, a mouse.
"It's a sweet tale and very clever," Averill said.
To create Stuart's smallness on-stage, the set pieces had to be oversized.
"We have a 14-foot-tall and 20-foot-long suitcase," he said.
Averill said the large theater in the new arts center will offer a challenge to the Seem-To-Be Players, which is known for using simple sets and props to create different locations.
"We now have a space that expects to be a theater," he said. "It will take more design time for lighting and the set. � And we anticipate the crowds will increase."
Set designer for "Stuart Little" is Jon Cupit. Costume designer is Jennifer Glenn. The music is by Averill and is performed by Averill and saxophonist Jade Brown.