Ten years ago this week, Kansas University's Campanile hill was jam-packed. More than 10,000 people were camped behind Memorial Stadium, and not because of a sporting event or graduation ceremonies, but for a live music rarity. The biggest buzz-band in the world � Seattle's Pearl Jam � was performing ... and admission was free.
A decade later, KU's Day on the Hill is still thriving � and still being measured against that landmark episode.
"This year is a little bit different," said Traci Pillard, live music coordinator for Student Union Activities. "We didn't try to hunt down a national headliner as we have in years past. The goal was to find more local/regional talent."
The 3,000 or so folks that Pillard expects to attend this year's event will be treated to Lawrence acts No Lessons, Hotsauce and The Hardaways; King James Version from Stillwater, Okla.; and songwriter Emilia Dahlin from Portland, Maine.
The Anniversary will headline the show. Though based in Lawrence, the band has established a solid national reputation through constant touring and its acclaimed new album, "Your Majesty," which was released on the influential West Coast label Vagrant Records.
Pillard, a 21-year-old majoring in communications studies, holds the main sway in selecting the bands, with input from a committee of about 30 active members. When assembling the lineup, SUA looks at a variety of factors such as a group's touring/routing schedule and popularity with college-age audiences.
What: Day on the HIll with The Anniversary, Emilia Dahlin, Hotsauce, No Lessons, King James Version, The Hardaways.When: noon-6 p.m. SaturdayWhere: West Campanile hill (lot 59), Kansas UniversityTicket price: freeTicket information: 864-7469
But perhaps the biggest component involves cash.
"It was kind of a forced decision on my part budget-wise to go local," Pillard said. "We didn't have the money to land a national headliner. If the money was there, I probably would have."
There are other concerns that influence whether marquee acts get recruited to play Day on the Hill. After the attendance generated by Pearl Jam, the perception in the local community was that the university frowned on fostering a situation that attracted so many bodies to campus.
"Their worries are very warranted," Pillard said. "Especially with graduation coming up, they don't want the campus all torn up. I don't blame them one bit for that. And there are safety issues and insurance issues. Whether they've stepped on my toes as far as being able to do what I want to do, not really. They've been very good about being supportive and letting me do what I can within certain bounds. But they wouldn't let me run amok, of course."
Hunting for another fluke
"I wouldn't disagree with someone who says Day on the Hill is not what it was," said Dawn Patterson, program adviser to the Kansas Memorial Union. "But that's not the fault of Day on the Hill. It's just because of how the industry has changed in the last 10 years."
A two-year veteran of SUA, Patterson blames much of the problems of putting together the daytime festival on a culprit from cable television.
"MTV has been the demise of Day on the Hill, and any campus will tell you the same thing," she said. "Before MTV, bands had to play the college circuit to be popular. They understood they weren't going to make as much money at a college show, but they had to do it to become a college-played band. Now you just have to get on 'TRL (Total Request Live).' They have no reason to lower their talent prices to come to our campus."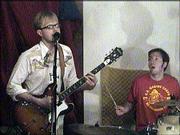 Patterson said many national artists charge fees of $40,000-$50,000 to make comparable appearances. SUA's total budget for Day on the Hill is a third of that.
"First of all, us getting Pearl Jam was a fluke. We got them before they were famous," she recalled. "We contracted them sometime in October (1991). Then (the single) 'Jeremy' came out and they were huge, but they were already in this contract with us."
Interestingly, efforts were made by SUA to lure the Grammy-winning grunge act back this year.
"We wrote Pearl Jam a letter and invited them to play as a 10-year anniversary from that first concert," she explained. "We said we'll do a fund-raiser or a charity event. We'll do whatever it takes to get them here. But I'm sure it was kind of laughable for a band of that caliber."
The group never responded to the request.
In addition to Pearl Jam, other major artists have appeared since the event originated in 1988. They Might Be Giants, Fastball, Matthew Sweet, The Urge and Hum have all performed for students.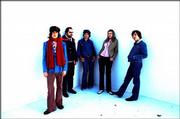 "I've never heard an administrator say, 'We don't want to bring in anything that's too popular,'" Patterson maintained. "Ultimately, the administration doesn't have a vote. That's what's so awesome about SUA is that they control their own budget. They decide what they want to do."
Local input
"I've always wanted to play Day on the Hill," said Andy Bricker. "I've lived here a long time."
The Hardaways drummer remembered working at the campus Yello Sub during Pearl Jam's concert, able to hear the sounds of the Seattle act's tunes drifting into the eatery.
His own rock group got its ticket punched to the upcoming Day on the Hill through winning KJHK's Farmer's Ball competition last week. From a combination of a judging panel and audience voting, The Hardaways were chosen to open Saturday's show.
"I'm not sure how we won," said Bricker, whose trio actually hauls a baby grand piano to all its gigs. "It's probably because our friends showed up ... But we're playing at noon, so who knows how many people will be there. If it rains we'll probably be playing to just the sound man."
Other bands scheduled to perform range in style from the harmony-driven indie pop of The Anniversary to the rural acoustic sounds of No Lessons; the singer-songwriter earnestness of Emilia Dahlin to the trippy grooves of King James Version.
Patterson actually saw the gospel/R&B/funk combo Hotsauce when judging the Hawk Night Talent Competition held at the Kansas Union. "They were awesome," she said of the 12-member ensemble. "Everybody loved them. They won. So I personally said, 'You've got to play Day on the Hill.'"
In addition to the music, SUA promises a variety of other services and happenings. Concessions are available (but no alcohol is allowed), including free sno cones as long as they last. A T-shirt tie-dyeing tent is arranged. A party-pic person taking complimentary Polaroids makes the rounds, as does a balloon man and a masseuse. A few inflatable recreation items are available along with the usual throng of vendor tables and information booths. And student station KJHK 90.7 FM is DJing during the set changeovers as well.
"SUA does not exist to make money," Patterson added. "We don't make a dime. We 'throw away' a lot of money � at least $15,000 on Day on the Hill. But we don't consider it throwing it away; we consider it an investment."