Saturday, August 31, 2002
Venice — Sunglass-sporting divas, moguls and hangers-on hopped off their motorboats for the opening of the Venice Film Festival on Thursday, with all shades flipped up to gander at the star of the day: actress Salma Hayek, who was presenting her long-toiled-over biopic "Frida."
Hayek said she woke up every day for years thinking about a film about the Mexican painter Frida Kahlo, whose sometimes sad and peculiar life story seemed to contain just the right combination of elements to never get made.
"A love story about a hairy woman and a fat man," Hayek said Thursday, listing some of the salient elements of the plot. "They were communists. She was bisexual. It is a period piece.
"It was not attractive to most people."
But eventually the tide turned amid growing public interest in Kahlo's life, her hauntingly surreal self-portraits and her relationship with her husband, the portly left-wing muralist Diego Rivera. In the end, Madonna wanted to make a Frida picture and so did Jennifer Lopez.
Yet it was Hayek who ended up as Frida when the clapper board snapped.
"Today, I'm very happy to be here. But it's not the most exciting day of my life," Hayek told a news conference Thursday. "The day I showed up at the set � that was the most exciting.
"That feeling will not be topped by anything else."
The movie got a high-powered screening Thursday night at the opening gala in the Palazzo del Cinema, which began with a short red-carpet walk of stars, to the delight of hundreds of fans � and the agitation of photographers who begged for poses with shouts of "Gwyneth!" and "Salma!"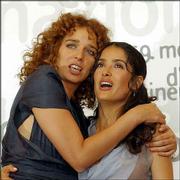 Gwyneth Paltrow turned up with fashion designer Valentino on her arm and a half-grin on her face, while Sophia Loren � who hasn't been to the Venice festival for years � came arm-in-arm with her son Edoardo Ponti, whose feature debut "Between Strangers" premieres here.
It was Hayek, however, who turned up last, and Hayek who drew the most attention.
Her two-hour picture, by longtime theater director Julie Taymor, tells Kahlo's life in Mexico in the early 20th century, and features numerous stars, including Alfred Molina, Ashley Judd, Geoffrey Rush, Antonio Banderas and Edward Norton, who co-wrote the screenplay.
As the credits rolled two hours later, the crowd burst into enthusiastic applause for the 33-year-old Hayek.
The sunglasses may have been turned to "Frida" on Thursday, but film posters plastered around the island reminded of what was to come: more than 75 feature films, from Hollywood to art-house, as well as dozens of shorts and retrospectives.
The Lido was buzzing with action � and most of all with the sound of bicycles zipping by, as black-suited execs with cigars plugging their lips pedaled along on the rickety rental bikes that are the vehicle of choice on this thin island off central Venice.
Among the other major films at the 59th Venice Film Festival were "Road to Perdition," "Full Frontal" and "Ripley's Game." Plus, dozens of international art films.
The awards ceremony comes Sept. 8, on the festival's last day, when the jury headed by Chinese actress Gong Li will hand out the main prizes, while a second jury will award prizes in the Upstream category for more experimental films.