Washington — First lady Laura Bush asked Americans to "remember other people during this Christmas" as she unveiled a White House dressed up in an elegant red-and-gold decor made whimsical by papier-mâche re-creations of the pets of presidents past.
"I wish for peace," said Mrs. Bush when asked for her wish for the season. "I hope that all Americans will remember other people during this Christmas, ask senior citizens in, visit with people who are lonely, that they'll work in their food banks, that they make sure that they use their good fortune to help others who are less fortunate."
The first lady also asked that the families of those serving in the military -- "deployed around the world right now defending our freedoms" -- would get thanks and support. And she reminded people that the sting of last Sept. 11 would continue this season for those who lost a loved one in the terrorist attacks.
The weather helped out for the annual preview of the gussied-up executive mansion that will serve as a backdrop for 19 holiday parties -- for lawmakers, state officials, staff, friends, the media and others. A blast of wintry weather dumped a blanket of snow that lent a festive air from outside to the twinkling lights, gilded decorations and elaborate confections inside.
The Bushes' official holiday entertaining season got under way Wednesday, with a Hanukkah gathering and a reception for the artists and decorators that brought the decorations to life. Late Thursday, the president and first lady were hosts for the pageant of peace in which the national Christmas tree on the National Mall was lit.
The theme -- "all creatures, great and small" -- had papier-mâche likenesses of a Noah's ark of animals that have played a role in White House life, whether as companions or beasts of burden, protruding from nearly every nook and cranny. The lineup includes George Washington's horse, Nelson, up through Spotty, Barney and Willie, the Bushes' two dogs and cat who earned a special spot on the mantel in the grand entry hall.
In addition, nearly every available inch of the centerpiece 18-foot Noble fir, gracing the oval Blue Room, is covered with birds. The White House enlisted the governors of every state to recommend artists who would contribute a favorite bird.
Mrs. Bush said her favorite was the enormous turkey resting on a low branch. Also on the tree were a small framed painting of a pelican, a mockingbird from her home state of Texas, an owl and "lots of cardinals" that fit perfectly with the red theme, she said.
The theme this year was partially inspired by Mrs. Bush's love of bird-watching and by the Bush family's devotion to its pets.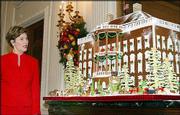 More like this story on Lawrence.com