Friday, December 13, 2002
The Get Up Kids have been Lawrence's premiere band for some time now, leading the emo-rock charge with their debut album in 1997. By working their asses off on the road, they've inspired rabid fan bases all over the country who pack shows by the thousands to sing along with the Kids -- Matthew Pryor [vocals, guitar], Jim Suptic [vocals, guitar], James Dewees [keyboards], Rob Pope [bass], Ryan Pope [drums].
TGUK's 1999 "Something to Write Home About" only upped the ante, putting the band on the road with Weezer and Green Day. Of course, any band that's as successful as TGUK is bound to inspire a counter dose of resentment, even (or perhaps especially) in their hometown. Their latest album "On A Wire" -- which left behind racing tempos and straining vocals in favor of a mid-tempo, softer sound -- proved to be an especially easy whipping boy for the naysayers.
Whether bashed or blandished, either way TGUK are making music for one reason: for themselves, say the brothers Pope, who talked with the World Online's Phil Cauthon Dec. 1, 2002. The now veteran musicians calmly assess where they've been and where they're headed. Last month they purchased Red House studios in Eudora, renaming it Black Lodge (for legal reasons). They plan to begin work soon with engineer Ed Rose, amping up the studio both by lining it with new equipment and by recording their new record, which could be out by Jan. 2004.
Q :: Last we talked the album hadn't quite come out yet, and I think it was Jim (Suptic) who said that 'On A Wire' would either make you guys even bigger or it would ruin your careers. (Rob laughts) What's your assessment at this point?
Ryan :: Well, so far it hasn't done either. It's been just a steady move, nothing crazy by any means.
Rob :: I think we also decided that people were either going to love it or hate it...
Ryan :: And that's true.
Rob :: It's totally true. The people who love the record, you know, it's our favorite record of theirs. And a...
Ryan :: It's their favorite record of ours. (laughs)
Rob :: Yeah. That's what I said! (laughs) Yeah, that's proven to be extremely true. When we go out and play shows and we play the songs from ('On A Wire') half the crowd's going "Play 'Ten Minutes!'" or any of our other old stuff. And then half the crowd goes crazy when we play the new stuff...
Ryan :: It's a very mixed reaction, which is fine. We didn't expect anything but that.
Q :: What have you heard people say about it, whether it's your core fans or critics?
Ryan :: It's funny, all the major publications like Rolling Stone, Spin and the larger world-wide magazines are like "The Get Up Kids went out on a limb and made a great record and tried some new stuff and it works. It's cool." And then all the smaller fanzines...
Rob :: The punk rock fanzines...
Ryan :: The people who loved our old stuff are saying "They've killed anything they were good at. They're not good any more. Too mid-tempo. Boring. Too much melody." (Rob laughs)
Q :: How do you take that?
Ryan :: Whatever.
Rob :: We're fine. You can't live your life regretting a decision you've made. I think we're all proud of the record.
Ryan :: Yeah definitely. And I think it's bad for any artist or musician or anyone to put too much weight on critics.
Rob :: Critics and journalists. No offense! (laughs)
Ryan :: Yeah, no offense. Those people are there to help you but they're also definitely not there to help you. When it comes down to it, all that matters are the decisions made inside the band.
Rob :: And what's going to keep us happy. That's it. Too many journalists are (pauses) failed musicians (laughs) and people that are bitter about bands that are doing well at all.
Ryan :: Well that's more on the smaller level. Like the online zines and people that write more just straight up negative, bitter type stuff as opposed to biased opinion.
Q :: Do you guys pay attention to those smaller music zines at all?
Ryan :: Not really. Like when the record first came out, we'd get the updates, get the press and read stuff. Eventually it's just like...
Rob :: Damaging. If people are telling you that you're terrible for so long, then you're going to believe it. If people are telling you that you're a genius for so long, then you're going to believe that. You know? Either way I think that can be damaging to your creative output.
Ryan :: It is nice to hear that people enjoy your record. Of course. But that's more us playing shows and fans coming up and saying stuff. It almost means more when kids come up and go "That was the best show" or "I love your new record" than if you read a review that's "This record is a little leap for the Get Up Kids. It's better but it's still not that good." (both laugh)
The showWhat: Benefit show for Toys for Tots featuring The Get Up Kids, The Belles, The Danny PoundWhen: 9 p.m. FridayWhere: The Bottleneck, 737 New HampshireTickets: $15, door
Rob :: I'd rather hear it straight from someone's mouth than read it. Means a little more.
Q :: Do you ever step back and look at how far you've come in just a few years? You know being in Rolling Stone months in a row, selling tens of thousands of records...
Ryan :: Oh yeah. That's something I think we've realized over this past record" it's important to set goals as a band. But it's not healthy to believe everything everyone's telling you so that you set goals so high, you know "Alright, no matter what it takes we're going to sell a million records." No, that's not how it works.
Rob :: Selling a million records is a fluke.
Q :: You mean coming from where you guys are at versus ready-made Top 40ers?
Rob :: Right, but even for them it's a fluke. They've dedicated they're lives to selling a million records and for every one that does it, there's a thousand more who don't.
Ryan :: Basically we think it's important not to ignore the reality of your situation and always be happy with the fact that we can still make records. That's exciting for us, and we can still play shows and have thousands of people come watch us.
Q :: Or buy a house like this!
(both laugh) Ryan :: Yeah whatever! I haven't had a job for five years now...
Q :: Other than music.
Ryan :: Other than music. And I (pauses) yeah, whatever...
Rob :: We're very lucky.
Ryan :: Yeah, we're very fortunate. And we appreciate it.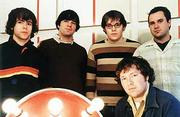 Q :: Were you happy with the amount of play you got on M2 or radio spins?
Ryan :: It didn't do anything on the radio. Radio shot it down.
Rob :: M2 kinda bummed us out because we thought the video was so cool.
Ryan :: We had people from radio and MTV all telling us (with tone of fake sincerity) how much they loved the record, and how it's so great, and this and that, and they're going to help us and do this and this. (Rob laughs) And so we're like 'Cool, we've got people excited about the record.'
And then a week goes by and it's (with deeply apologetic tone) 'Oh yeah, we can't take the risk because we got this thing called Skater Boys. Skater Boys is on the radio now and that's going to take up an add. Or something like that where people just blow smoke. That goes back to not getting...
Rob :: Not getting so wrapped up in the business end of it. It's unhealthy for a band to listen to people just blowing smoke up their ass all the time. You can only make so many records where every one they tell you you're going to be huge and you're going to sell a million records.
Ryan :: We're making another video this month (for "Stay Gone"). That's going to be more for overseas, Japan and Europe.
Q :: Do you get a lot of play on MTV there?
Ryan :: Yeah. We actually do better in Japan than in America.
Q :: Doesn't everybody?
Rob :: It's the Cheap Trick syndrome.
Q :: So you're going to Europe and Japan (and Hawaii) after your shows here. What are your plans after you get back? I hear you've written a crap load of new songs...
Rob :: We've got about 12 right now, in the process of being demoed and pretty solid as they are now.
Q :: What are they like?
Ryan :: It's just cool. (laughs) I think they're cool songs. They're more what our band is, I think. More rock, without being your standard rock. It's rock with pretty interesting instrumentation once we get it all finished. A lot of crazy stuff going on. More groove-oriented music.
Q :: Are the lyrics still emo?
Ryan :: We'll find out. Right now the lyrics are...
Rob :: Kind of angry. (laughs)
Ryan :: Yeah, angry. And observant. They're definitely not about girls. (both laugh)
Q :: Will you bust a few out at the show?
Rob :: Yeah, yeah. We'll play two or three.
More like this story on Lawrence.com