Friday, December 20, 2002
Now is the time of year that most journalists dread. Bands aren't touring; albums aren't being released; and the live music scene goes into hibernation.
This aural dead zone -- which annually spans from the third week of December to the second week of January -- is just the type of occasion to give us ample opportunities for sitting in front of the computer and playing the latest video game purchase until carpal tunnel sets in.
However, there are just enough holiday-themed goings on that it would be a shame to close out 2002 without getting in a few last musical jollies.
l The newly relocated Americana Music Academy is playing host to a rather unusual concert at Liberty Hall on Sunday to benefit the fledgling enterprise.
"We're doing sort of a dream of mine," says Thom Alexander, executive director of the AMA. "It's a Christmas rock 'n' roll show for like an hour and a half that's a benefit for the school, but it's also an excuse for students and their teachers to get up and do some recitals for their family and show what they can do."
This looser-structured portion of the event runs from 8:30 p.m. to 10 p.m. Prior to that, some regional bands will be showcasing their talents.
At 2 p.m., Lawrence bluegrass throwback Midday Ramblers kick off the gathering. Levee Town, a blues band from KC, takes the stage at 4 p.m. At 4:45 p.m., the traditional Celtic act Tartan performs, followed at 5:15 p.m. by The Saint Nicholas Strings, featuring Lawrence guitarist Steve Mason. International yodeling champion Judy Coder will display her western swing skills at 6 p.m. The domestic bluegrass of The Faris Family will run from 6:30 p.m. until the Christmas rock 'n' roll portion starts to rumble.
Tickets are $10. Patrons under 18 are admitted free.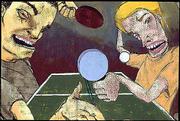 "What I'm really trying to do is create a new Lawrence tradition for the holidays," adds Alexander. "The truth is that after Dec. 7 nothing happens in this town. What I'm hoping is in the last five days before Christmas we can do this every year. I'm hoping it will be a little bigger each year and we can start bringing in some national acts to close out the night."
l Christmas doesn't have to be celebrated with just electric guitars. Tonight at The Bottleneck, 737 N.H., an Acoustic X-Mas will converge onstage at 10 p.m. Artists include The Wilders, featuring Eric Mardis and Calvin Bennett; Julia Peterson; Saddle Rash; Sam Billen; and Sharay-Shabat. No one bringing an amplifier will be admitted.
l Powerhouse KC station 98.9 The Rock is hosting Twisted X-Mas. And while Twisted Sister is not part of the happening, various other angry/trendy groups will appear at 6 p.m. at Memorial Hall, 600 N. Seventh St., Kansas City, Kan. Disturbed, Chevelle, StereoMud and Stone Sour fill out the bill. Tickets are $29.50.
l Lawrence expatriate artist Travis M. Millard has seen his works used as cover art for a bevy of area bands. The Get Up Kids, The New Amsterdams and The Anniversary are just a sampling of the acts that have embraced his eccentric style. From 7 p.m.-10 p.m. Sunday, Millard will play host to an event called "Let's Keep TM2 Outta the Gutter" at The Love Garden, 936 1/2 Mass.
"The show is definitely a product of necessity for living in New York," Millard says. "So come out and support the skinny kid."
This isn't the first time the artist has lured an audience to The Love Garden.
"We did the last one two years ago before I left Lawrence," he recalls. "It was an unexpected surprise. It helped me get a boost and a little extra money in my pocket before I moved out. I don't remember quantity-wise what I sold, but I made almost $5,000 in three hours. It was insane."
Millard graduated from KU in 1998 with a degree in illustration and printmaking. Sunday's show will represent the scope of his elaborate skills, ranging from cardboard collages to silk-screen prints.
Although he admits, "This time around I had a little less time from conception to throwing it together."
In addition to his CD artwork contributions, the Olathe native also has found a steady gig at Spin magazine. He originally drew a monthly strip for the New York-based publication, but lately he's been recruited to write articles ... weird articles.
"Last April I was asked to go audition for Limp Bizkit as their guitar player and just bomb and document the whole thing," he says. "It ended up being a four-page spread. It was ridiculous. There's a picture of me with my arm around (Bizkit singer) Fred Durst.
"I went out to Denver and waited in line for eight hours to audition. You only get a minute to play, and I just freaked out, played feedback, shrieked and started humping a dude. They were scared to death. So that went over well."