Wednesday, February 13, 2002
Beverly Hills, Calif. — The fantasy epic "The Lord of the Rings: The Fellowship of the Ring" led the Academy Award field Tuesday with 13 nominations � best picture, director and supporting actor among them.
Other best-picture nominees were "A Beautiful Mind," a dramatization of math genius John Nash's struggle with schizophrenia; the class-war satire and murder mystery "Gosford Park"; "In the Bedroom," a low-budget tale of family tragedy and vengeance; and "Moulin Rouge," a tragicomic musical set in 1899 Paris.
"A Beautiful Mind" and "Moulin Rouge" were tied for second place with eight nominations each, including acting nominations for "Moulin Rouge's" Nicole Kidman and "A Beautiful Mind's" Russell Crowe and Jennifer Connelly.
The film with the most nominations often wins best picture come Oscar night. But many of the nominations for "Lord of the Rings" were for technical achievements such as visual effects, sound, costume design and editing. A sprawling fantasy adventure has never won top Oscar honors, so "Lord of the Rings" could come away with the most trophies while missing out on best picture.
The best-actor nomination for Crowe was his third in a row and sets him up for potential back-to-back Oscars following his victory last year for "Gladiator."
Also nominated in the category were Sean Penn as a retarded father seeking custody of his daughter in "I Am Sam"; Will Smith as boxer Muhammad Ali in "Ali"; Denzel Washington as a rakish bad cop in "Training Day"; and Tom Wilkinson as a vigilante father in "In the Bedroom."
With Smith and Washington's nominations, and Halle Berry being named a best-actress nominee as an executed killer's widow for "Monster's Ball," it was the first time three black actors competed in the lead categories since 1972, when Paul Winfield and Cicely Tyson for "Sounder" and Diana Ross for "Lady Sings the Blues" were in the running.
Nominated in the academy's new animated feature category were "Jimmy Neutron: Boy Genius," "Monsters, Inc." and "Shrek."
Behind the scenes
The record for most nominations is held by 1950's "All About Eve" and 1997's "Titanic," which had 14 mentions each and wins totaling six and 11, respectively. Other films with 13 nominations include "Gone With the Wind" (1939), "Forrest Gump" (1994) and "Shakespeare in Love" (1998).
"Moulin Rouge" was the first live-action musical to land a best-picture nomination since "All That Jazz" in 1979. The animated musical "Beauty and the Beast" was nominated for best picture in 1991. The last musical to win the top Oscar was "Oliver!" in 1968.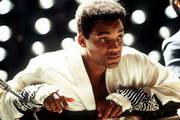 Gene Hackman, a Golden Globe winner for "The Royal Tenenbaums," missed out on an Oscar nomination. "Moulin Rouge" director Baz Luhrmann also was snubbed in the Oscar bids, although he received a nomination from the Directors Guild of America. And Billy Bob Thornton, a double Golden Globe nominee for "The Man Who Wasn't There" and "Bandits" and who also received praise for "Monster's Ball," got no nominations.
Last year's top-grossing film, "Harry Potter and the Sorcerer's Stone," received just three nominations, for art direction, costume design and original score.
Nominees in most categories were chosen by specific branches of the 5,700-member Academy of Motion Picture Arts and Sciences, such as actors, directors and writers.
All academy members were allowed to vote for best-picture nominees. The full academy also is eligible to vote in all categories for the awards themselves.
ABC will broadcast the Oscar ceremony on March 24 live from the show's new Hollywood home at the Kodak Theatre, just a block away from the Roosevelt Hotel, where the first Academy Awards were handed out in 1929. The show has not been held in Hollywood since 1960.
Whoopi Goldberg returns as host, her first time as master of ceremonies since 1998.