Thursday, January 3, 2002
Elvis Costello once said that writing about music is like dancing about architecture � one form of expression straining vainly to interpret another. Whether Costello was right or wrong depends on perspective � some say that the golden era of music writing died with the passing of outspoken wordsmith Lester Bangs, while others claim it headed south the day his first word was published.
Siding with the former school of thought is "Da Capo Best Music Writing," an annual roundup of the sharpest music criticism and prose in print. Helming the 2001 edition is guest editor Nick Hornby, who penned the vinylhead classic "High Fidelity" and admits to being a lifelong slave to the rhythm.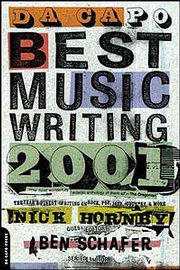 "Music matters to me as much as just about anything that doesn't have two legs (and infinitely more than anything with four)," he writes in the book's introduction. "It's a fuel, a companion, a constant source of literary inspiration, a consolation, an energizer, a means of self-expression when, as so often happens, the means I have at my disposal fail me."
Though Hornby's respect for music is obvious, the editor isn't above selecting a few choice pieces that poke fun at the dizzying ludicrousness that is often part and parcel of the commercial-music world.
"Most pop music is pretty funny, most of it unwittingly so, and therefore jokes about it are not only advisable but vital," Hornby writes. "Who else is going to laugh at the pomposity of pop music, its self-importance and narcissism and its eye-popping idiocies?"
Appropriately then, the book begins with "The Rock Snob Dictionary," a priceless work complied by Steven Daly, David Kamp and Bob Mack. According to the authors, the rock snob is that nose-upturned individual found in every used-record store, college-radio station and coffee shop in the country. "He (and he almost always is a he) brooks no ignorance of pop music history, and will take violent umbrage at the fact that you've never heard of Jack Nitzsche, much less heard Nitzsche's ambition pop-classical album 'St. Giles Cripplegate.'"
The authors then provide a lexicon of indie-rock hipster terms that all aspiring music snobs should commit to memory. Big Star, Byrds' founder Gene Clark and the word "seminal" are just a few of the included gems.
Also amusing is Jim DeRogatis' verbal spar with Third Eye Blind frontman Stephan Jenkins, who phoned the Chicago Sun-Times music critic after several scathing reviews and demanded a printed rebuttal. DeRogatis agreed, publishing a transcription of their heated-but hilarious conversation. In the piece, Jenkins � who's earned a well-deserved reputation for an ego that far exceeds his talent � huffs and puffs in relentless defense of his artistry, which DeRogatis repeatedly skewers as "watered-down mainstream modern-rock. It's a lowest common-denominator radio sound that's not that far off from Matchbox 20."
Jenkins can't believe his ears: "That's just absurd!" he rages, later asserting that, "Hype is something that our band has certainly eschewed. Our band has been, if not the most D.I.Y. next to Fugazi, then number two or three."
Also standout is "Barbra's Farewell: A City Verklempt," where New York Observer critic David Rakoff wryly dissects the pomp and circus of Barbra Streisand's "farewell" performances in New York City. At one point, Babs tells the audience about a queen-sized floral display, delivered backstage prior to the show: 150 roses with a pearl in the center of each.
"The audience fairly climaxed at this extra-classy Aaron Spelling image," Rakoff deadpans. "And all I could think was, from what Summer's Eve box was this idea lifted? ... We might as well have been watching footage of Buddha French-braiding Jesus' hair."
Underground alt-country sensation Robbie Fulks weighs in with "If I Said You Had a Beautiful Gross Adjusted Income Would You Hold It Against Me?" In the true-story, Fulks and his manager/wife are summoned to their local tax-examiner's office for a nerve-wracking business audit � every musician's nightmare. As with his recorded works, Fulks supplements his trademark twisted humor with a fair amount of cynical, hard-earned observation. Upon entering the office, the singer-songwriter is initially pleased to find that his auditor is black. Fulks nods to his wife, silently assuring her, "He's a brother. Everything will be all right. Here is no busta-ass wigger (expletive)-talkin' IRS chickenhead. This man will not use the U.S. tax code to bully a pair of struggling bohemians ... These reflections, the effects of an ingrained bad habit of attributing nobility to ethnic minorities, are momentary. Within an hour I will feel like smashing this gentleman's head apart on his desk."
Seeking perspective
Of course, it's not all whimsy. "Real, loud sustained hatred for an artist or an album suggest that it's maybe about time that the writer had kids, or got a job as an aid worker, or did anything which might help him gain a sense off perspective," Hornby chides in his introduction. Fortunately, there's plenty of serious music writing found in this year's edition as well, including sublime pieces by luminaries like Greil Marcus and Nick Tosches.
Robert Gordon delivers a stirring eulogy to his departed neighbor Jeff Buckley in "Northern Light," an account that completely humanizes the deceased musician, while still capturing his mercurial, rock-star behavior (and talent) in all its resplendence. Gordon also describes the frenzied rumor mill that he tried to ignore as reports of Buckley's demise initially floated in: "I glanced out front and an image of his bandmates � their stooped backs, the shade of the magnolia tree, red Converse high-tops on asphalt � seared into my brain. Death. I'd never seen them before, but their dyed hair and disheveled look announced them as Jeff's guests, and their dazed walk and stupefied manner instantly confirmed the worst."
It's a powerful moment and one that should touch even the darkest of hearts � the same way a great song digs effortlessly into the skin. The best music writing is often like the best music � rife with singing, soaring dynamics and words that make you see the world in a slightly different light. Elvis Costello would undoubtedly agree.
More like this story on Lawrence.com