Thursday, January 10, 2002
At age 76, Kansas City-born Robert Altman is still among the edgiest filmmakers around � one who is equally brilliant and frustrating. Though the ultimate actor's director again makes use of an oppressively large ensemble cast, he ventures away from his usual Americana subject matter with "Gosford Park," a period piece examining the upstairs/downstairs existence of a bygone British society.
The movie superficially uses the setting of an English country manor to introduce a murder, with numerous people in the house having motivation to commit it. With Altman's protracted shots of a missing knife and bottle of poison, he at first seems to be setting up an art film version of the board game Clue. However, the tale is hardly about crime (the guilty parties are fairly obvious), but remains more interested in examining the class relationships and hidden secrets of those who would welcome such a deed.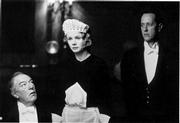 In November 1932, guests arrive for a pheasant shooting party at the lavish Gosford Park. The estate is headed by Sir William McCordle (Michael Gambon) and his wife Sylvia (Kristin Scott Thomas), whose ultra-snobbish aunt Constance (Maggie Smith) is among the first of the crusty guests to show up. Along with enough lords, ladies and lieutenants to fill a chessboard, there is also a bit of celebrity present. Movie star/songwriter Ivor Novello (Jeremy Northam) is a visitor and has brought along his American producer friend Morris (Bob Balaban, who is given credit for hatching the story with Altman). While most of the women swoon around the charming Novello, Constance finds the plebeian actor beneath her dignity.
As the snooty nobles sip martinis through their forked tongues, those in the lower part of the estate work at a frenzied pace to keep their employers happy. Constance's new maid Mary (Kelly Macdonald) is introduced to the house staffers (including Helen Mirren, Derek Jacobi and Emily Watson), who explain that all of the guest's traveling servants are called by their masters' names when downstairs. But the mannered roles of the workers aren't just reserved for measuring the spaces between silverware when setting the dinner table. Mary learns that past associations amid all those at Gosford run deep.
The aspects that make "Gosford Park" so interesting are the same things that make it a difficult film. Altman employs no extras, so the dozens of cast members are given nearly equal screen time. (While filming, he places a microphone on all the actors so that they can continue to remain in character even if they're only used in the background of a shot.) As the parties wander in and out of rooms, cinematographer Andrew Dunn lingers on the opulence of the house and its grounds (this is Altman's best-looking effort). This unhurried technique allows the actors to flesh out their characters through lengthy conversations.
The upside to this approach is that there are no throw-away performances, and no stars trying to overmatch those in "lesser" roles. The downside is that there are too many characters to follow in the beginning of the movie. Altman introduces such a flood of information that by the time the show is over, it's virtually impossible to explain the importance of each player or their relationship within the hierarchy. While some of the aristocrats are obvious in standing (Smith, Thomas, Claudie Blakley), others are a complete mystery (Geraldine Somerville, Tom Hollander, Natasha Wightman, Laurence Fox, Trent Ford).
ReviewRating: ***(r)
A second viewing helps sort things out; Altman has stated in interviews that his films are designed to be watched three or four times. And it's true that his past masterpieces such as "Nashville" have a resonance that is hard to grasp through a virgin viewing. Yet with "Gosford Park," there's a real question of how many audience members may want to embrace that opportunity. Altman invites an artistic conundrum: Should a movie be considered great if it only fits together after repeated viewings? Maybe that's just the filmmaker's inability to make things clear the first time around.
More like this story on Lawrence.com