Thursday, January 10, 2002
Ryan Mattes has a faraway look in his eyes, as if something crawling across the ceiling has captured his undivided attention. He straddles the microphone stand like a man clutching the last shards of sanity. Slowly he comes back to earth, suddenly remembering that he's onstage and in possession of the eyes and ears of the small throng of devotees studying his every move, transfixed by his every utterance. The music  courtesy of Waysted Stacey (which is Parlay, minus frontman Ernie Locke)  swells behind him and the song roars back to life.
"Ain't it fun when you know you're gonna die young?" Mattes intones, his ghost-town vocals easily filling the comfy confines of The Pub, one of the numerous burgeoning rock clubs currently making waves in Kansas City. His body twitches and contorts in time with the music, submitting to the steely power of rhythm. As the number climaxes, the crowd roars its approval, although the female contingent is certainly more vocal.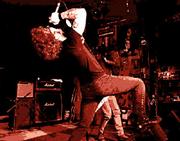 Mattes saunters from the stage and straight to the bar, where he's surrounded by handshakes, back pats and more than a few inviting glances. The 24-year-old vocalist dismisses the accolades with a shrug and orders another round. "Ah, it was nothing," he says of the Dead Boys cover. "But I was wasted so that helped."
Getting wasted has been Mattes' on-and-off mistress for some time, a minor passion that has become all-consuming during the last 18 months  ever since he signed on as frontman for The Last of the V8s, a KC-based quintet with a sound and a lifestyle that teeters impetuously on the brink of disaster.
"This band drove me to drinking," Mattes smiles. "I'd been sober for three years. It's a get-drunk band."
"The volatile nature, I think that's what keeps the band together," offers drummer Kriss Ward, on-hand to check out the Mattes/Waysted Stacey pairing.
"We're all basically out of control. It's really kind of destroyed our lives as far as being model citizens. But we like being in our band. We like playing rock 'n' roll. We like being together and having fun and drinking. There's never gonna be one of us that's gonna go, 'Oh you know what, I don't think I'm gonna drink today.' (laughs)"
Personality crisis
Ward and guitarist Steve Murphy formed the V8s in October 1999, inspired by pedal-to-the-metal bands like Gluecifer, The Black Halos and The Murder City Devils. After a lengthy search, the pair connected with bassist Shane Dolbier, but failed to find other members that fit the bill.
"When me and Steve just started getting the songs together, we struggled so hard to find the right people," Ward recalls. "I had an idea in my head, Steve had an idea in his head and we knew what we wanted to get across. We were really frustrated."
A few months later, the band was sitting in a local tavern, drinking the day away and bemoaning their singer-less situation. As if taken straight from the pages of a movie script, Mattes  who had just returned from an extended chill-out period in Washington and Arizona  was seated in the next booth. Upon overhearing the conversation, the vocalist introduced himself and asked to audition.
"They were like, 'Let's see what you do, let's hear you scream,' Mattes remembers, laughing. "So I did some (expletive) arena-rock scream and they told me they were practicing on Tuesday and to come on out."
Mattes struggled initially, searching vainly to find a definable voice for the V8s.
"I had the energy but I didn't have the rhythm," he admits. "There was too much pressure."
"It didn't get started right off the bat," Ward says. "Steve was really getting discouraged because we had been at this for more than a year and couldn't find the right people."
Murphy became so embittered by the situation, he eventually left the band for Washington, D.C., just after Cretin 66 guitarist Jay Zastoupil was coming into the fold.
"We had this little bitty space over at the El Torreon, and Jay's band was rehearsing upstairs in the ballroom," Ward remembers. "We were down there almost every day, trying to come up with ideas. Jay loved it. One day we hear a knock on the door and there's Jay sitting on top of a Marshall stack with his guitar in his hand. He came in and it was just like, boom!"
Sonic reducer
Things moved quickly for the V8s after that. Within the early months of 2001, the band developed a solid enough set of material to ink a deal with local indie label Shock Factory. The act's urgent debut  "It's On!" produced by Season To Risk's Duane Trower  was recorded in a mere three days.
"We're not about the big-production thing," Ward says.
"We're raw."
"I always used to say that we played up-tempo stoner rock," Zastoupil laughs. "Because if you slowed it down, a bunch of the songs would be droning, stoner-rock anthems."
On wax, Mattes proved to be the most-improved member of the V8s, roaring and bellowing his way through the record like a man possessed. The songs spoke volumes, too: "Valium Blues," "Demon Machine" and "Rocket Ride Straight to Hell" contained all-too-true tales of the group's journey through rock excess.
"What I live is what's in all the songs," Mattes says. "And the songs that were written when I got there, I was more or less living before I got in the band."
In the months that have followed its release, the V8s debut has received plenty of attention for its raucous approach to rock, but even more scrutiny for the album's cover, which features a voluptuous female friend, covered only by an armful of tattoos and an oh-so-carefully placed V8s logo. Though the overall package has the look and feel of a major-label release, putting the artwork together proved fairly simple  once Mattes could find someone willing to brave the photo shoot.
"I tried girlfriends, and then girls I was screwing for a minute, and then girls I was rubbing their necks," he says. "Then I realized that if I asked a girl I wasn't touching to do it, we might have some rock 'n' roll photography ready to go."
But there's a lot more to the V8s than hype and alluring artwork. During the past year, the group has become a minor word-of-mouth phenomenon for its assault-and-battery live show, particularly Mattes' over-the-top antics. The singer has been known to try every stage trick in the book, from rafter swinging to crowd surfing to showing up in some of the strangest getups seen in local  and national  venues in some time.
"I broke my rib recently," the frontman says. "I hurt my tailbone. Lots of things onstage, I get pretty stupid."
Road rage
Last year, the V8s toured the left side of the country twice, headlining minuscule dives and opening for indie stalwarts such as Mudhoney and Rocket From the Crypt. The road stints have taken the group as far north as Canada, with the band making friends and converting fans in nearly every city along the way.
"We've left a stain in a lot of places we've gone," Mattes says. "In Salt Lake City the radio guys were cool with us, in L.A. people were giving us places to stay for free, in Arizona we played this horrible club that no one ever shows up to, but they always want us to come back. Colorado? Get drunk. Iowa? We pour drinks behind the bar. It's been fun. Even the difficult times, when we had some grief in the band, it was still fun ... If we play in front of 50 people and get paid $75 and I get to drink for free, I don't care. It doesn't matter to me. As long as we get a chance to get out there. I'm doing it for the fun; I'm not doing it for the money."
Mattes might be doing it for the glory, though. At the group's recent New Year's Eve show at The Bottleneck  an opening slot for punkgrass outfit Split Lip Rayfield  the singer showed up ready to celebrate the coming annum in style. Mattes began the show decked out in a diaper, sash, combat boots and top-hat, eventually stripping down to a pair of woman's' skivvies. The crowd was duly horrified.
"Most of the people were there to see Split Lip Rayfield," Zastoupil laughs. "I like them, they're good, but the people that came out to see them were expecting to see acoustic bluegrass and didn't know they were gonna see some obnoxious rock band with a singer running around in a diaper. So they seemed a little put-off and confused."
"The fact that we scared people at New Year's, that's what we do it for," Mattes howls. "That's punk rock. (Expletive) it, man! Playing in panties, playing in a diaper, sash, top-hat  I'm there for a good time."
The Bottleneck show helped usher in a new era for the V8s, who have been given a shot of adrenaline from a lineup that now includes the return of prodigal guitarist Steve Murphy as well as former Jumbo's Killcrane bassist Aaron Mersmann, who stepped in after Dolbier departed a few months ago.
"He broke the V8s' hymen on the West Coast of the United States of America," Mattes says of Dolbier. "He was the person that (expletive) put us out in the country and really made us who we are."
Ballroom blitz
The V8s are gathered in the cramped, 8' x 24' El Torreon rehearsal room that they call home. Amidst the usual rock rubble of guitars, amps, drums and microphone stands is a massive Pabst Blue Ribbon sign, a life-sized cardboard cutout of ZZ Top and a framed Frank Zappa photograph. While the ZZ Top tribute seems good-humored, the other items make perfect sense: The band's predilection for beer is obvious, and Zappa once used this very space as a dressing room, prior to a legendary show downstairs. The V8s are preparing for an upcoming gig with another legend, former New York Doll Syl Sylvain, who's currently touring with original Blondie drummer Clem Burke and will appear in KC later this month. The band will also kick off an extensive West Coast-tour in February.
After a fair amount of jostling, wrestling and tuning up, the band roars into its first number  an unreleased tune entitled "Drunk Again." The performance is killer, a barrage of garage-slop chording, whiplash drums and yowling vocals. Two minutes later, the song comes crashing to a close. The group unanimously hates it, immediately agreeing to a second take. If round one was bruising, round two is a flurry of knockout blows, delivered with balls-out swagger and youthful confidence.
After blowing through a few more tracks and making a much-needed beer run, the band gets to work on an untitled new tune, slated for inclusion on a vinyl EP to be recorded in the coming weeks. "I don't want to love you sober/I don't want to hate your drunk," rings the chorus. With a moody subtext and an atmospheric aura, it's one of the group's finest moments to date, light years beyond anything found on its debut and a sure sign that the V8s are improving with time.
"It's a beautiful chemistry project," Mattes grins. "We'll sit here for a couple of hours and have this bad-ass song."
The extended practice concludes with a fiery rendition of "What I Need," which rocks so much harder and faster than its recorded counterpart, it's almost wholly reborn. In these final moments, the group jells completely, a behemoth demon-rock machine firing on all pistons. As the song closes, smiles light up the room  the first unanimous show of approval all night. Time to head for the nearest bar.
"Sure, I'm drinking, I'm getting ruined again," Mattes says. "But I have an outlet now. Everything I sing about is a release."
More like this story on Lawrence.com