A Kansas University alumna who directs the Phoenix Bassoon Quartet is bringing the Costa Rican ensemble to Lawrence for a concert next Sunday.
Isabel Jeremias, a graduate of KU's music department, teaches bassoon and music theory at the University of Costa Rica, where the chamber ensemble was established in 1993.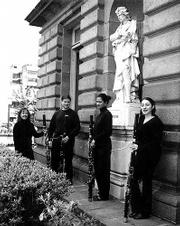 The concert, at 2 p.m. Jan. 20, will feature works from Latin American, South American, Spanish and Italian composers. It will mark the quartet's first appearance on the KU campus.
The ensemble's repertoire ranges from early Baroque to contemporary music, including traditional Costa Rican music. The quartet's members are bassoonists Guillermo Rosabal, Cindy Bolandi and Cataline Guevar and harpsichordist Maria Clara Vargas.
The bassoon has not played an important role in the musical history of Costa Rica. Since the 1900s, Costa Rican composers only used the instrument occasionally in chamber and orchestral music.
The Phoenix Bassoon Quartet has taken on the task of familiarizing the public with the bassoon by giving recitals throughout the country. The group has performed in churches, on radio shows and at music festivals. Recently, it played at the 40th anniversary of the academic exchange between the University of Costa Rica and KU.
The quartet will participate in several residency activities during its stay in Lawrence. The musicians will appear at the KU music department convocation from 2:30 p.m. to 3:20 p.m. Thursday in Swarthout Recital Hall in Murphy Hall; visit Lawrence public schools on Friday; conduct a bassoon clinic from 2 p.m. to 4:30 p.m. Saturday in Swarthout Recital Hall; and give a preconcert lecture at 1 p.m. Jan. 20 in Oldfather Warm-Up/Dance Studio in the Lied Center.
Tickets for the Phoenix Bassoon Quartet concert are from $11 to $27 and can be purchased at the Lied Center Box Office, 864-ARTS; Murphy Hall Box Office, 864-3982; Student Union Activities Box Office, 864-3477; Ticketmaster, (816) 931-3330 or (785) 234-4545; and online at TICKETS.COM.