Thursday, January 24, 2002
Some bands want to change the world with their music, but Esau just wants to increase the peace between local belt-wearers.
"If you're not wearing a white belt, it's pretty hard," jests vocalist Rob Gillaspie during a recent interview in a downtown tavern. "In Lawrence, it seems like it's the spiky belt kids versus the white belt kids. I've got a belt at home that has zodiac signs written out on the back. So I'm thinkin' we're starting a new belt trend that say messages on them, and we're like walkin' the middle ground. I want to shoot off in a whole other direction in the belt front."
"Or you could just get white, spiky belts," guitarist Jay Howell deadpans.
What's in a name?
Esau, which formed last summer and began playing local venues in the fall, took its name from Jay's much-loathed eighth grade gym coach. Of course, the moniker also has Biblical origins, though the group is a bit fuzzy as to the details.
"Evidently, Esau was a hairy bastard," Jay says. "And he had a beef with his brother over the whole fatted-calf thing, and sold his birthright for ...."
"... a bowl of soup," Gillaspie roars. "A cinnamon roll, it was a bagel. It was a bagel dog from Einstein Brothers. (laughs) But I kinda think that the name pertains to us because Esau kind of got shafted, and I kind of feel like in a sense we get shafted a little. But in the end we'll come out on top. We won't take it like he did. We won't take it like the little bitch that Esau was."
What: Esau, the Immortal Lee County KillersWhen: 9 p.m. MondayWhere: The Replay Lounge, 946 Mass.Ticket information: 749-7676
Gillaspie, a 25-year-old Topeka transplant, endured stints in Donkey Show and Icarus before being recruited by Esau one afternoon last summer.
"I was walking to work one day," he recalls. "And (bassist Mike Ford) drove by in a Scotch van and picked me up and said, 'We need you.' And I said, 'Why?' And to this day I still ask myself why."
When Gillaspie signed on board, the core of Esau was already intact. With Jay handling guitar duties, his younger brother Ryan on drums and Ford manning the bass, the group had already gelled into a formidable sonic unit, concocting a sound comprised of equal parts punk and indie rock. The band also claims to have been influenced by Jay's rather unique biology.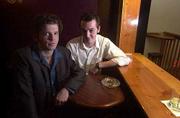 "I have a third nipple," he says, pulling up his shirt to reveal what indeed appears to be a third nipple located on his left abdomen. "I think it's totally responsible for my slide technique. I'm pretty sure I was born with a tail, too, but my parents will neither confirm nor deny it."
Though the Howells enjoy a friendly relationship that doesn't mirror that of infighting brother-bands like Oasis or the Black Crowes, there are benefits that come with having a sibling at rehearsal, in the studio and onstage.
We're the Alex and Eddie (Van Halen) of punk rock," Ryan laughs.
True stories
Esau has just completed work on its forthcoming album, recorded by Matt Alexander and Kevin King in the group's KC practice space. Rough mixes of the effort find the group blasting out greasy, grimy guitar slop while Gillaspie warbles and moans through gritted teeth. When the singer launches into one of his trademark cat-scratch screams, the intensity levels go red. Lyrically, Gillaspie alternates between subjects ranging from hotel illness to lovesickness, usually with a keen eye toward the morbid and a sense of humor blacker than a coal mine at midnight. While tunes like "Tourniquet" and "Bathtub Sickness" might come across like bad high-school poetry on some frontmen, Gillaspie tears into his topics with an uncomfortable sense of familiarity.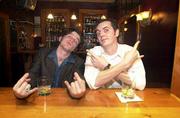 "I'm hardly a poet, I just write lyrics in my head with the intention of them being songs at some point. Let it be known that I hate poetry," he says.
"But the second time you wake up dead, you realize that you've done enough drugs and crazy partying in your life that you can just put it out of your system and reflect on it and write songs about it later in life. We're not one of these bands that writes songs about what a rough life we have and don't mean it. Just because I'm not limping now doesn't mean that my songs are posturing."
To date, Esau has only played a handful of gigs, but they've mostly been good ones, including shows with local favorite like Jumbo's Killcrane, Filthy Jim and Season To Risk. In a music scene filled with numerous genres and styles, Esau is carving a niche for itself with its own brand of three-chord brat-punk.
"There's sad-bastard rock, but we're more like disgruntled-bastard rock," Gillaspie explains.
"Or angry-bastard rock," Jay adds. "Drunk-bastard rock. We have all these influences that go through the grinder of Esau and don't really come out sounding like any of those bands at all."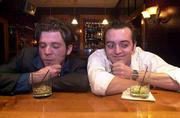 "It goes from sucky to more sucky and then back to just kind of sucky," Gillaspie smiles. "And then we stop for one last sucky blast right at the end, man. The kids seem to love it."
Esau is for the kids, apparently. Not only does the band have a coloring/activity book in the works, but most of the members are involved in serious relationships and some have children. Next month, Gillaspie will become a father for the first time � an occurrence that has the vocalist pondering the future with newfound maturity. Maybe.
"I sing, barely," he says. "I mainly flop around. People used to come see me freak out and do stuff, and I'm trying to overcome that image. I'm trying to establish myself as like a serious musician-type now. No one's buying it. (laughs) They just want to see me take off my pants or break a glass over my head, but it's not happening anymore. This is the kinder, gentler Rob."
More like this story on Lawrence.com