Thursday, January 24, 2002
The True Value Country Music Showdown is the kind of gig that most twangy groups spend lifetimes dreaming about. But it's reality for the six aspiring country acts gathered at Kemper Arena, including Broken Cowboys, an Independence, Mo., quintet that won two previous battles-of-the-band to get here. The top dog will travel on to Nashville and perform at the Grand Ole Opry, competing with three others in a prestigious, televised finale.
For an up-and-coming country outfit, it's a real shot at the big time. A young Garth Brooks went on to a multi-platinum career after winning the very same contest, and Martina McBride, John Michael Montgomery and Neal McCoy all got their starts there.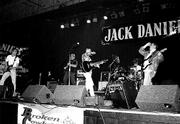 The Cowboys' chances look good; the competition doesn't appear too formidable: a Marty Robbins wannabe, a pair of Shania-styled leather molls and a nervous 12-year-old girl whose stage-parents hover eagle-eyed in the wings. Then there's Wichita's Against the Grain, a band that's anything but. Against the Grain? Please. These guys ARE the grain, with corny, matching western gear and trite, country-lite songs that sound like they were crafted in a dark laboratory by scientists with an uncanny knack for chart-topping crap.
But it's only weeks after Sept. 11, and the Grain doesn't forget to insert a pandering, patriotic ode to America in the middle of its set, complete with a heads bowed, 10-gallon hat-on-chest salute to the firemen and rescue workers that lost their lives. The audience eats it up, proudly singing along to "The Star-Spangled Banner" and looking somewhat teary eyed. The Grain is definitely the band to beat at the Kemper Showdown.
Broken Cowboys' set is decidedly looser. The members amble onstage with a gleam in their eyes, looking a bit green in front of the immense crowd. But as soon as the music kicks in  a hellfire rendition of Keith Urban's "Where the Blacktop Ends"  all bets are off. Singer/acoustic guitarist Noe Palma looks like a rockabilly spider from Mars in his snakeskin pants, low-slung acoustic and hip-shaking shimmy. The second song, a scorching original entitled "Pain, Pain, Pain," is even better, with the group galloping into the number with all the grit and vigor of a garage band on a good night.
They didn't stand a chance.
"Every one of us was devastated," says bassist Tom Dean of the band's foregone-conclusion loss to Against the Grain.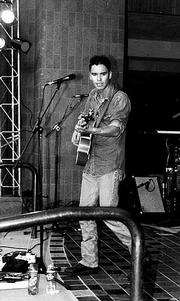 "We were disappointed, but not completely torn up," drummer Rob Harmon adds. "That band did have a more Kenny Chesney, Garth Brooks appeal. They were definitely harder-core country."
"It wasn't the fact that we didn't win, but who did win," keyboardist/guitarist Adam Dean says. "It was like, these guys would've been great if 1980 called and asked for their act back."
Family tradition
The Cowboys began three years ago when music veteran Tom Dean met the 20-something Noe ("No-ee") Palma at a local jam session, and decided to form a band on the spot. After working with a number of guitarists, the duo auditioned Dean's son Nate, who  at the ripe old age of 16  was already a more accomplished picker than most peers twice his years. The Cowboys' first gig was at a graduation party for Palma, who decided to become a firefighter when he wasn't fronting the burgeoning group. The outfit struggled in vain to find a permanent lineup, and ran through numerous drummers until happening upon Harmon last year.
"It was Spinal-Tap-esque," he laughs, gathered with the group at its basement rehearsal space. "I'm afraid for my life."
Around this time, the Cowboys also added Dean's older son, Adam, who had already logged countless hours performing in acts ranging from traveling Broadway-style reviews to corporate-function jinglers to lounge-circuit crawlers. Though its current inception has only been together since last June, the Cowboys have already started to make waves in the KC-area, opening for majors at The Beaumont (Tim Rushlow, Phil Vassar, Emerson Drive) and landing prestigious gigs at out-of-town venues, such as a recent 3,500-seater in St. Louis with country legend David Allen Coe.
There have been a few straight-tequila nights, too. The Cowboys have sloughed their way through many an evening in a tiny tavern where no one seemed to have a full set of teeth and payments were rendered by the glass. There aren't a lot of country bands in the area, either. Beyond Rex Hobart, Hadacol, Steel Horse and a handful of others, twangy music doesn't seem to resonate with local audiences the way indie rock, hip-hop and even blues do. For Broken Cowboys, that means taking gigs that require four-hour sets and playing covers, about which there seems to be a degree of ambivalence.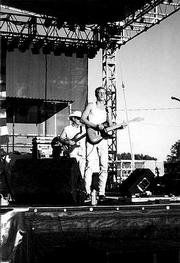 "We're still playing bars," Adam says. "You want to be cutting edge, because there are other bands that are doing the exact same thing. We have enough of a following that we don't want to play exactly the same thing for them every time they see us. We want to be able to mix it up."
"In the '50s, the record industry was talent, songwriters, producers," adds Harmon, who spent years playing in Atlanta-based rock groups and has retained a slight Southern drawl. "Everybody had a niche, and really the overall quality of the music was very high. It does lend itself to homogenization over time. But the thing about country is that it auto-corrects itself within the genre. Just now, it's breaking away from staunch rules. The Dixie Chicks are a worn-out but excellent example of a new sound. ... But just sitting around playing the bar circuit, that's how guys gosour. But it's hard to get in that door, man. You gotta find the back door or know somebody who knows the doorman. (laughs) You know anybody?"
Regardless, getting to the top isn't necessarily as important as making good music, something the Cowboys remain determined to do, record-company marketing teams be damned.
"The money always seems to end up secondary," Tom says. "Because we all love the music. ... I think what motivates every person in every band, no matter what the genre, is being onstage and having the people right there  and you see the feet tappin' and you see the heads bobbin', or you see the people dancin' and then the applause afterwards. It's all part of what drives us."
Feeding the bulldog
So what is the commercial potential for a band like Broken Cowboys, anyway? Though stranger things have happened, Nashville A&R; reps probably aren't going to get overly excited about a group that spans two generations and is comprised of a business owner, a firefighter, a college student, a mechanic and Nate, a self-described bum/professional moocher. It's not exactly the fab four or the fab five or even particularly fab. And while the "my-two-sons" gimmick is interesting for 30 seconds or so, it's not the typical springboard for a sustained music-biz career.
"Time is a real factor," the 53-year-old Tom admits. "We've got to make it count when we get together, and that is a constraint. I think maybe things would move quicker if we could all focus more energy or time, but we don't have it. You gotta feed the bulldog."
"Everyone bad-mouths country all the time," says the 33-year-old Harmon, who owns Monster Music, a major Independence instrument outlet. "But when you get down to it, the people who have money  30-somethings, 40-somethings  grew up listening to '80s music, and country most closely resembles that music now. If you turn on the rock station now  I'm not that old, but it just gives me a friggin' headache. I'm not that mad, that's my problem. I'm just not angry at the world. I just can't be. My life is great, man! I got two killer kids and a great wife, a business of my own at a relatively early age. I got nothing to complain about."
Perhaps in part to avoid the mercurial glitter of Nashville nights, the Cowboys are basing operations here at home, rather than relocating to Music City in a bid to get closer to the industry  as the founding members of BR5-49 once did.
"I'd rather try to make a wave here," Harmon says. "Because there's fewer people making waves here. One medium-sized wave in the Midwest might be seen. If you go to Nashville, you're in the proximity, but you're competing with a bagillion, trillion other people. You're in with the best players in the world; You're also in with a bunch of crappy players who think they're great players."
Chicken pickin' Dokken
Broken Cowboys' sound hinges upon harmony and the guitar interplay between the brothers Dean. As players, Adam and Nate are a study in dichotomy, and one glance at their respective instruments-of-choice underscores this contrast. While Nate prefers to strum a vintage Telecaster through an ancient-looking Vox amp, Adam's got a rig that would be the envy of any '80s hair-metal outfit, replete with rows of effects pedals and perhaps the last slanted-headstock, Floyd-Rose whammy-bar guitar still active in a local band.
"I'm more of the style guy, and he's more of the notes guy," Nate explains. "I'm more of the tone guy. He's a very good guitar player, but I'm probably a more appropriate guitar player for a country band. I'm the only thing, sometimes, that keeps this band country. We don't have a fiddle player, we don't have a steel guitar player, so I have to do a lot of those types of sounding things."
Adam's strength lies in his ability to smooth out Nate's rough edges, not only with his dexterous playing, but with his caterwauling harmonies and cooing keyboard work.
"That's where Adam's an invaluable guy, he does eight arms worth of stuff," Harmon says. "But he does do a lead every once in a while and he doesn't try to be a country guitar player. We do an opener with the big chords and everybody's smashing around, and (Nate's) got the country, chicken-pickin' thing and then Adam has two hands on the fretboard, as '80s-metal as Dokken ever was. ... It just kind of brings to the table what Broken Cowboy kind of really means. (laughs) We're messed up. We're 18-to-53, we're metal to classic rock to blues and, I don't know, this whole band really is a musical mess. But it's a fun mess, it's a good mess."
"That's us, that's our music," Tom adds. "It'll make or break us. We may either be the happiest little five guys playing in a basement that ever came along, or somebody'll go, 'Hey, that's a sound.' But we can't make music that we don't like making, so we're gonna make the music we make."
More like this story on Lawrence.com