For years, the one band synonymous with the heartland was Kansas.
And after selling 30 million records over the course of the past 30 years, no Sunflower State act has ever eclipsed its success or longevity.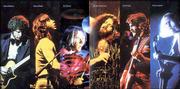 "We've made our mark," said Kansas singer/violinist Robbie Steinhardt. "We're here to stay."
As if punctuating that statement, Epic/Legacy Recordings just released "The Ultimate Kansas" on Tuesday. The two-disc, 26-song set includes some of the Topeka-formed group's best-known material, such as "Carry On Wayward Son," "Dust in the Wind" and "Hold On," along with stellar album cuts like "Mysteries and Mayhem" and "Down the Road." In conjunction, the label also issued a remastered 25th anniversary edition of "Point of Know Return," the act's best-selling work.
"What happens with a big company like Sony or Columbia or Epic or whatever, if you let them do something with your material, you're always afraid it's not going to turn out the way YOU would have wanted it," Steinhardt said. "But I really like this 'Ultimate Kansas' package. It's pretty cool. I'm very proud of it."
Steinhardt, a Lawrence native who graduated from Lawrence High School in 1968, helped found Kansas in 1972. And he's remained with the acclaimed band through three decades of fluctuating popularity but consistent musicality.
"We all just turned 52," Steinhardt said. "We're older and wiser. People tell us we're playing as well. It's a lot more comfortable now, except for some of the traveling. We get along much better because everybody is more responsible. Really, things are better than they've ever been."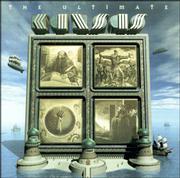 Finding momentum
First assembled as White Clover in 1970, the Topeka ensemble kicked around for a few years before solidifying a lineup and changing its name to one that matched the members' license plates. Eventually, music mogul Don Kirshner became interested in the group's not-very-radio-friendly mix of progressive rock and rural emotion.
"We didn't know much about anything then," said guitarist Rich Williams, who comprised the quintessential Kansas with Steinhardt, guitarist Kerry Livgren, keyboardist/singer Steve Walsh, bassist Dave Hope and drummer Phil Ehart.
"Shopping a deal? We just sent some stuff out and took the first thing we got any interest in. We didn't have a clue what the business was. We didn't have a lawyer. We signed away all our publishing. We said, 'What's this publishing?' They said, 'Don't worry about that. It's just a little bit of money from sheet music.' We signed a horrible deal." (The act didn't renegotiate until after its second multiplatinum seller "Point of Know Return.")
"After we made the albums (our name) was a problem, because people were going, 'What kind of country and western band is Kansas?'" Steinhardt added. "But it was just another hurdle to jump over."
The main obstacle seemed to be the sextet's lengthy, complex compositions that were often lumped in with contemporary European prog rock. But Kansas added a Midwestern flavor to its material, singing about more personal (and eventually spiritual) topics and adding a certain rootsiness to the oddball time signatures and instrumental fugues.
"We had a lot of experience listening to foreign rock 'n' rollers � all kinds of English players," Steinhardt said. "That obviously seeped into the music. But here were six guys that were totally different in almost every way. I guess bringing those diverse ideas and feelings together made it happen that way. I know there's never been a band quite like what we do."
Searching elsewhere
After a surprising amount of radio success in the late '70s, the core lineup of Kansas suffered its first crack in 1982 when singer Steve Walsh left to pursue a solo career. Arguments between Walsh and Livgren over the band's direction were sparked by the guitarist's spiritual about-face after becoming a born-again Christian.
The group continued with a new lead singer, but in 1984, Livgren (who still lives in Berryton) left to pursue exclusively Christian music. Kansas then disbanded.
When looking back on the issues that originally drove the members apart, Williams maintained those bygone disputes still bear a certain weight.
"A lot of water has been under the bridge since then, and we've all made up. We all get along real well," he said. "But to do it all over again, it would happen the same way. Those issues were very big stuff for everybody."
Kansas re-formed in 1986 upon Walsh's return and went on to release five more albums of original material, including 2000's "Somewhere To Elsewhere." Though not officially a member, Livgren penned all the material on that recent record. The connection of the founding bandmates still runs deep.
"In some ways it hasn't changed that much at all," Williams said. "We still get along great. We love what we're doing. We're just not young and dumb anymore. There was a certain adventure to it back then ... It was a pirate ship on the water. Now we have families and kids and a lot of other responsibilities to deal with. We've grown up.
"Back then everything was happening so fast it was hard to understand it. But now you can enjoy the moment a lot more. Performing is a lot more fun. And I'm a lot better player than I was 20 years ago."
Williams points to his melodic leads on "The Wall" and the scalding "Journey From Mariabronn" as some of his favorite personal works.
"I surprise myself, because I never know what I'm going to play until it comes out," he said. "Then when I listen back it's like, 'Wow, I didn't know you could do that.'"
As for the band's finest collective compositions, Williams offered a few opinions � though he asserted that the other members might completely disagree.
"I think 'Leftoverture' (1976) and 'Point of Know Return' (1977) were the peak of what we did and certainly the most popular things," he noted. "One of the other great things was with (guitarist) Steve Morse called 'In the Spirit of Things' (1988). But I've listened back to it lately, and I'm not as fond of it as I once was. The last thing you did is usually what you like most. But then the newness wears off. Right now this DVD we're working on is going to be incredible. So that's my favorite thing at the moment."
In addition to releasing "The Ultimate Kansas" and the remastered "Point of Know Return," the band is close to completing "Device Voice Drum," a DVD collection set to come out in October.
Williams explained "Device Voice Drum' � which is an unsubtle nod to the word DVD � features two hours of live performances, interviews, old road footage and interactive animation. The concert itself was among the most elaborate that Kansas has ever tackled, at times featuring an 80-piece choir and a full string section. Six cameras captured the event on film (not video).
"We had 150 people who paid $300 a ticket," Williams said of the shoot held in Atlanta, where Kansas has somewhat ironically been based since 1975. "They got to come to dress rehearsals and have photos with the band. These were our biggest fans from all over: Australia, Spain, Japan. The place holds 700 people, and the rest was filled with family and friends.
"We'd been working on this DVD shoot for almost a year. And this was the night. It was just overwhelming. It was hard to play at first. It was hard to relax because there was so much energy in the room."
For a group that hasn't enjoyed a hit single since the 1980s, there's been an awful lot going on lately for Kansas, which counts 15 concerts on its schedule this month alone.
"Somebody asked me the other day, 'When are you going to quit?'" recalled Steinhardt. "I said, 'I don't think I am. I guess I'll quit when I have to.' We've been doing this for way too many years. And we're pretty good at it. There's nothing else for us to do at this point."
Perhaps Kansas really is past "the point of know return."
More like this story on Lawrence.com