Creepy crawlies contrast with beautiful flowers in the latest exhibition at the Helen Foresman Spencer Museum of Art at Kansas University.
"Fish, Flowers and Flying Things: Nature at the Spencer Museum" is made up of works of art from the collection depicting a variety of flora and fauna, including fish, amphibians, reptiles, plants, mammals, birds and insects.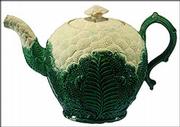 The exhibit opens Saturday and runs through Sept. 1. Joe Lampo, acting assistant to the museum director, organized the show, which features American, European and Asian artists and craftsmen from the 12th century to the present.
The museum is mounting the exhibit in conjunction with the annual conference of the Guild of Natural Science Illustrators, which will meet in Lawrence Aug. 4-9.
Several works in "Fish, Flowers and Flying Things" are from the founding art collection given to KU by Sallie Casey Thayer in the early 20th century. The works include an 18th-century English cauliflower teapot; a pair of dolphin pressed glass candlesticks made by the Boston and Sandwich Glass Company; and a Japanese netsuke, or miniature sculpture, in the form of a frog.
Decorative art objects in the Spencer's collection are not fully exhibited because of space limitations.
"It is especially fitting to display more objects from Mrs. Thayer's eclectic collection at this time since 2002-2003 is our 25th anniversary as the Spencer Museum of Art and our 75th as the art museum of the University of Kansas," said Andrea Norris, director of the museum.
A couple of events are being planned at the museum in conjunction with the exhibit:
� Lampo will give a gallery talk at 7 p.m. July 25 in the Kress Gallery.
� The movie "A Bug's Life" will be shown at 7 p.m. Aug. 22 in Spencer Museum's auditorium.
More like this story on Lawrence.com