Potigrafu, Romania — The mayor of this drought-stricken village has never seen a movie with Nicole Kidman, but he'd like to make her an honorary citizen.
Mayor Gheorghe Voicu calls it "a hand from heaven for the locals" that "Cold Mountain," a big-budget movie starring Kidman and Jude Law and adapted from Charles Frazier's Civil War novel, is being filmed in the village of 1,300 people.
Voicu has been busy this summer fixing up the kindergarten and village school with income earned from the Miramax-MGM film.
"Cold Mountain," which began filming Monday in Potigrafu, marks Romania's entry into the market for big Hollywood movies.
Costs remain low here: The average monthly salary is just 3.3 million lei � about $100 � substantially lower than in the nearby Czech Republic or Hungary, which have been popular with Western filmmakers looking for low costs and stunning architecture.
Anthony Minghella, who directed the Oscar-winning "The English Patient," found the fields and virgin forests of southern Romania a perfect setting for the $80 million "Cold Mountain," which takes place in the American South. Later scenes will be shot in the mountainous region of Transylvania, in northern Romania.
Western producers say the unspoiled and underdeveloped Romanian countryside saves filmmakers the trouble and expense of digitally removing signs of modern times, such as buildings or power lines, that exist in the U.S. countryside.
"Cold Mountain" tells the story of Inman, played by Law, a wounded Confederate soldier on a perilous journey back to his North Carolina home, where he hopes to reunite with his sweetheart, Ada, played by Kidman.
The movie's battle scenes will be thrashed out on pastures where cattle usually graze; dozens of villagers have helped set up wagons, watchtowers and U.S. flags, and more than 100 cattle farmers have been compensated about $300 a head for the inconvenience.
"I love my animals, so I bought them food with the money," said Stelian Raducu, 71, who received about $900 compensation for three cows.
Film producers have laid gravel on the road, the first time it's been repaired in 60 years.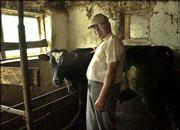 In Potigrafu, some 25 miles north of the capital, Bucharest, life hasn't changed much for centuries. People draw water from wells along the street, and get around mainly on horses and carts or bicycles. Farmers till the soil by hand. The town is known in Romania mainly for clay pots and rush mats.
Any cash is welcomed by residents, whose corn and sunflower crops have been hurt by three years of drought.
The film industry will bring Romania tens of million of dollars this year, according to Vlad Paunescu, managing director of Castel Films, the Romanian producers for "Cold Mountain."
Romanian producers try to accommodate their movie guests. Zeffirelli lived in a specially built lakeside bungalow. Kidman will have her own ranch in Transylvania.
The actress' low-key presence has frustrated local reporters, however, who have sneaked onto sets at night and staked out her hotel and Transylvania residence in mostly vain attempts to get a glimpse of her.