New York — When the Metropolitan Museum of Art set out to do a show on Paul Gauguin based solely on works in New York collections, curators had no idea how much they'd find. The results, they said, were surprising.
"In the course of mounting the exhibition, any number of Gauguins, mostly in private collections, emerged as word of mouth spread that the Met was doing a show," museum director Philippe de Montebello said.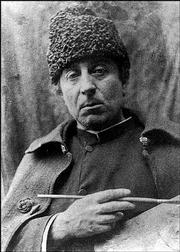 The city's first major Gauguin exhibit in 40 years features 120 works from museums and private collections around the state, including ceramic and wood pieces never before seen by the public, some rarely seen paintings spanning the French artist's entire career, and several works long listed as missing.
"Gauguin in New York Collections: The Lure of the Exotic," which also includes drawings, prints and sculptures, remains on view at the museum through Oct. 20. The show does not travel beyond New York.
Born in 1848, Gauguin grew up in Paris and in Peru and traveled the world as a merchant marine and in the military before returning to Paris, where he became a stockbroker, married and had five children.
When the French stock market collapsed in 1882, the 34-year-old left his job and family and devoted himself to his art career, traveling to Brittany, the Caribbean and the South Pacific � first to Tahiti and later to Hiva Oa island in the Marquesas, where he died of syphilis in 1903, at age 54, and where he is buried.
Organized chronologically, the show reveals not only the diversity of Gauguin's artistic influences, but also his evolution as an artist � and his cultivation of the eccentric swashbuckling "savage" persona for which he became famous.
"The fact is that I am a savage. And civilized people sense this," he once wrote.
The exhibit, which begins with a marble bust of his son Emil that he carved in 1877, and ends with a letter recounting a run-in with local authorities that he wrote a month before his death, features some of Gauguin's most stunning paintings.
Highlights include "Ia Orana Maria" (1891), an image of a Tahitian Madonna and child; "Two Tahitian Women" (1899), a serene image of women holding flowers; "The Yellow Christ" (1889); the 1892 "Manao Tupapau (The Spirit of the Dead Watches)"; and "Still Life with Puppies." Paintings from private collections include "The Wave" (1888); "Young Man with a Flower" (1891); and the 1892 "Te Poipoi (Morning)."
The works are decidedly voluptuous and tropical in mood, but Gauguin � who had a keen sense of art history and carried a sort of library of images with him on his travels � looked to Italian Renaissance painting, East Asian Buddhist sculpture, European modernism and Japanese prints for the themes he portrayed.
Works never before exhibited for the public include a number of ceramics, such as "Vessel Decorated with Goats and a Girl from Martinique," made between 1887 and 1889.
The 1895-1897 wood sculpture "Head with Horns," depicting a man with devilish horns, piercing eyes and chiseled lips, was long considered lost.
It was known to scholars only from two photos that Gauguin pasted into his own copy of a manuscript of "Noa Noa," written with poet Charles Morice.
Believed to be a self-portrait, the work � the only one not from a New York collection � was recently acquired by the J. Paul Getty Museum in Los Angeles from a private Manhattan gallery.
More like this story on Lawrence.com