What band has been together since the late 1960s and is currently enjoying some of its greatest radio success?
Without the visual aid of a picture or headline, one might not guess Rush.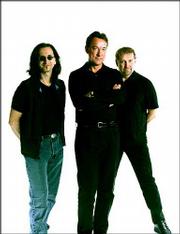 But since the May release of "Vapor Trails," its first studio album in six years, Rush has been artistically and commercially reborn. Powered by the first-rate singles "One Little Victory" and "Secret Touch," the progressive hard rock act has reclaimed its place on modern radio after years of exclusion.
Yet the triumph has come on the heels of turmoil and tragedy. After the Canadian ensemble wrapped its "Test for Echo" tour in 1997, drummer Neil Peart's daughter Selena was killed in a roadside accident when her Jeep ran off the highway. Less than a year later, his wife succumbed to cancer. For a few years it was a question mark whether Rush would continue.
"Neil is obviously scarred by the whole thing," said guitarist Alex Lifeson. "But he decided to get on with his life. There was nothing more he could do about it. His grief was so intense he had to move on. He's trying to find joy in his life now, and he's slowly getting there."
The Toronto trio was formed in 1968 by high school friends Lifeson and bassist/vocalist Geddy Lee. After an album of basic guitar rock in 1974, the pair brought in replacement drummer Peart, who added his cerebral lyrics and technical prowess to the band's gifted musical mix. The lineup has remained intact since then, issuing 17 studio albums totaling sales of over 35 million.
In that span, Rush has established its reputation particularly among other performers. Lifeson's densely textured guitar work and eccentric solos, Lee's virtuoso bass riffs and Peart's intricate polyrhythms have influenced the talent of several generations of musicians.
Lifeson, who turns 49 next month, revealed how his band has presently ditched the synthesizers and sequencers of its post-'80s material in order to concentrate on the signature sounds of guitar, bass and drums. The stripped-down Rush hasn't sounded this powerful in decades, nor has the group ever seemed so ... well ... relevant.
I can't remember a Rush album that has been so well received by the press. Have music critics finally come to accept this band?
"I guess they have. It only took like 25 years to do that. I think we've had our fair share of critics that were into the band. We've had some tough times over the years. But this record touched on something that was lacking in our music before, and that's the 'heart' of it. A lot of stuff when I listen back on it � and Geddy and I listened to a lot of our albums when we were getting the set together for the tour � I realized how we approached making records. We were very intellectual about it. At times it was much like surgery. It was so exact; every beat had to be right on. Then you'd play and play until you got absolute perfect performances. This record is really all from the heart. It's a passionate, spirited record. It seemed so unimportant to worry about those other things."
When I interviewed you for the "Test for Echo" tour six years ago, you said that the one thing that really bonds you three together is laughter. Given the events that have transpired since then, does that still hold true?
"In a lot of ways it was laughter that got us through some of the darkest moments. When Selena was in the car accident, that was so devastating to everybody. Obviously, you can imagine what it must have been like for Neil and his wife. But for all of us, we were shattered. We stayed with them and tried to support them as much as possible, and a lot of that was having a sense of humor at the right time. There's nothing funny about what everybody was going through. But there was a way to be light in other respects that just gave you a bit of brightness for that moment. Certainly now we joke around a lot more, the way we used to."
What: RushWhen: 8 p.m. ThursdayWhere: Verizon Wireless AmphitheaterTicket price: $30-$60Ticket information: (816) 561-2929
It seems that all kinds of recent bands are coming out of the woodwork to praise the influence of Rush. Do you hear pieces of your playing in these younger musicians?
"I guess I do sometimes. Adam Jones from Tool, I hear something of me in his playing. There's something in Queens of the Stone Age that I hear also. I really like them a lot too. They're very pure, very innovative."
Part of the band's identity lies with the complexity of your material. So what is the most difficult Rush guitar riff for you to play?
"I hate this to sound like it's going to sound, but they're all so simple to me. One of the really hard things to do is to write a guitar part that SOUNDS very difficult but in fact is quite easy to play. I think it's a real art to be able to do that. With 'Vapor Trails' I have a lot of open strings ringing out, and I didn't care. I just bashed around and had the core of what the part is supposed to be there, but everything around it was furry and buzzy and energetic. That created parts that seemed difficult."
How much of a role does technology now play in your creativity?
"Boy, a lot less in terms of technology and the guitar ... When recording this record I just wanted to plug in the shortest cable I could into the head into the cabinet and stick a mike on it. Generally the basis of the sound is just straight into the amp � which is a departure for me. I'd really come to rely on my effects, particularly chorus, and it kind of bugged me after a while. 'Why am I using this stuff all the time?' I wanted to go back to what my fingers were doing. I wanted to get right inside it. I didn't want to just hear the note, I wanted to hear what the vibrato is and the intensity of the pressure of my fingers on the guitar string."
Does the band collectively consider a certain song or album its finest work?
"We definitely feel that about this record. It's because of what we went through and what this record means � and the result of all that hard work. It took us 14 months to make 'Vapor Trails.' Normally it would take us four or five months. But there was a lot we had to say on this record. It had to reflect our relationship as friends as well as working mates. It reflected Geddy and my relationship in the way we compose, the trust that we have together.
"I can cite 'Moving Pictures' as one of our greatest records, because we sold a lot of them and there's a good collection of good Rush songs. Plus, there's a joy in the playing that I hear, and it takes me back. We had so much fun making that record. We were on the verge of becoming a headline act. There was such a great positive future ahead of us, and you can hear it on that record. But with 'Vapor Trails' it's so much more profound. We're so much more mature. Our life experience is so much deeper, and it's really reflected in this record."
More like this story on Lawrence.com