Los Angeles — What good is sitting alone in your room ... if no one is there to watch?
Liza Minnelli and new husband, David Gest, will be staging a "Cabaret" at their house � and you're invited.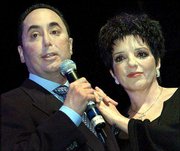 Trying to imitate the ratings magic of sister channel MTV's "The Osbournes," VH1 is offering its own version of a celebrity home invasion television series, with Minnelli and Gest in their Manhattan penthouse.
"It's an intimate evening at our house, kind of like our wedding," Gest quipped, referring to their lavish, celebrity-studded March nuptials that included 15 bridesmaids.
At a news conference Thursday, the Academy Award-winning actress, who said she was more nervous about meeting reporters than opening her home to the public, looked trim and healthy in clingy black slacks, blouse and long jacket.
The couple's show will emphasize music, with Minnelli singing solo and joining entertainer-friends in duets, Gest said. It's set to begin in October.
While no performers are confirmed, he suggested they would include such musically diverse artists as Mary J. Blige, Alan Jackson, Dr. Dre, Al Green and Barry White.
Minnelli, 56, and Gest, 48, said they were willing to open up their kitchen, dining room and music room.
"I won't let anybody into the bedroom or the bathroom," Minnelli said.
Gest said the show would not resemble "The Osbournes," the series that peers into the daily lives of aging rocker Ozzy Osbourne, wife Sharon and two of their children. "The Osbournes" has become MTV's biggest hit ever and is coming back for a second season despite Sharon Osbourne's colon cancer surgery and continuing treatments.
"We love the Osbournes. I think they're fantastic ... It's not the Osbournes," Gest said of his show, which he described as more of a musical jam with dinner thrown in.
The couple didn't detail the show's format or describe how much time they would spend singing, talking or eating.
Will the public be interested in "Liza and David"?
"If they like it, great. If it doesn't happen, we go onward," Gest said.
More like this story on Lawrence.com