"Hats for A Woman in Need of a Hat," an exhibition of Laura Dalrymple's photographs, will be shown through Sept. 15 at two Lawrence Bank locations, at 3500 Clinton Parkway and 100 E. Ninth.
Dalrymple, who teaches at Allen County Community College in Burlingame and Neosho County Community College in Ottawa, was diagnosed with ovarian cancer in May 2000. She told her students about her illness and the expected side effects of chemotherapy and came up with an assignment to help them relate to the experience of having cancer. The project called for her students to make hats for her to wear in class to cover the baldness created by her chemotherapy.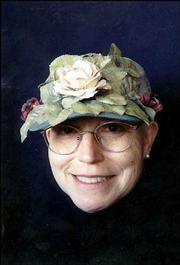 Her husband photographed Dalrymple wearing each hat. The photographs were matted, and eventually she began exhibiting them. Earlier this year, the photographs were exhibited at Lawrence Community Theatre during its run of "Wit."
Dalrymple, Topeka, has a bachelor's degree in studio arts from the University of California-San Diego and a master's degree in fine arts from the University of Illinois-Chicago. She also studied at the University of Ghana, West Africa, and the Art Institute of Chicago.
She works in photography, painting, sculpture and text and has exhibited in Kansas, California, Illinois, Utah, Colorado and Ghana.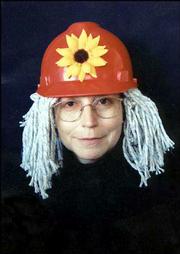 More like this story on Lawrence.com