Sixteen-year-old Chris Knoxsah carefully listened as cedar flute instructor Janalea Hoffman played a sequence of notes. He placed his fingers flat over the holes in the flute's body and blew into its mouth, echoing the teacher's song.
"Last year, we made flutes," Chris, a junior at Topeka High School, said. "This year, we're getting to play finally."
Chris is among the 55 high school students participating in the Upward Bound Summer Academy at Haskell Indian Nations University. The students come from Topeka, Lawrence, the Kansas City area and the Kickapoo and Potawatomie reservations in Kansas.
The four-week academy teaches academic skills and encourages the teen-agers to learn more about American Indian culture. During the day, they take part in such academic courses as math, science, English, art, computer skills and sign language. In the evenings, they participate in drumming, beadwork, shawl making and flute classes.
"It opens a window for Native American students to (let them) get in touch with their culture and to help them out in their school work," said Chris, who has attended the academy the past three summers. "It's two birds, one stone."
Bruce Martin, program coordinator, is learning to play the flute alongside the teens. He knows the summer academy is making a difference in the students' lives.
"I've seen a big difference in some of the kids," he said, describing how the non-participatory students open up after a couple of weeks and become productive and involved in classes and other activities.
The summer academy is a segment of the year-round, long-term Upward Bound program, according to office manager Lee Ann Martin. The program is in its third year and has a staff of about 25 instructors and counselors.
"It's an academic enhancement program to increase the kids' grades and to help them get into a post-secondary education (program)," she said, adding that Upward Bound helps secure financial aid and scholarship assistance for the students.
"We track the kids through high school and through their four-year degree," Bruce Martin said, explaining that the Haskell program is one of only a handful of Upward Bound program designed for American Indian youngsters.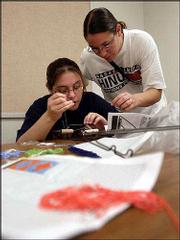 Across campus, Jessi Blacksmith, a 16-year-old who lives on the Kickapoo reservation, and Jaclyn Whitecalf, a 16-year-old from Independence, Mo., were designing beaded bracelets. After using colored pencils to draw their designs on paper, the girls carefully laced thread through a loom and began the meticulous process of assembling the beadwork.
Both teen-agers said they are glad they're in the academy.
"It opens your eyes to the different parts of your culture and to other people's perspectives about Indians," Jaclyn said. "� It's a good experience. I learn something new every day."
"I like being around the other Native American kids," Jessi said. " � I've made a lot of new friends."