Chicago — R&B; star R. Kelly, accused of videotaping sex acts with a 13-year-old girl, pleaded innocent to 21 counts of child pornography on Wednesday.
Kelly, whose first name is Robert, made no statement at his arraignment. "I can't talk right now," he told The Associated Press while on his way out of the courtroom.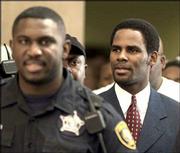 But he smiled and waved to fans who lined the corridor of the Cook County Courthouse, many of whom wore T-shirts reading "R. Kelly We Luv You."
One of his attorneys, Sam Adam, told reporters the Grammy-winning singer was innocent.
"I haven't seen the tape but I know the FBI has been wrong 100 times in the last year," Adam said.
Kelly, 35, who has been dogged by allegations of sexual misconduct in civil lawsuits, was indicted by a Cook County grand jury June 5.
Cook County State's Atty. Richard Devine has said the video was made in November 1997 or later and that the girl was born in September 1984.
If convicted, Kelly, who lives in the Chicago suburb Olympia Fields, could be sentenced to 15 years in prison and fined $100,000.
The singer has denied he is the man on the tape, while defense attorney Edward Genson has said the woman on the tape was not younger than 18 when the video was made. According to a law enforcement source, the parents of the girl claim it's not their daughter in the video.
Kelly's arrest followed an investigation in which about 50 witnesses were interviewed before determining the tape showed Kelly and an underage girl, according to Chicago police and Cook County prosecutors. FBI forensics experts analyzed the tape and concluded it was authentic, they said.
Kelly has been sued at least four times; three of the lawsuits involved allegations of underage sex. He has acknowledged settling two of those lawsuits, but his lawyers have said they will fight the third. The fourth was filed by a woman who claims he taped their sexual encounters without her knowledge.
The singer is known for hits ranging from the Grammy-winning inspirational anthem "I Believe I Can Fly" to sexually charged songs such as "Bump 'n' Grind," "Feelin' on Yo Booty" and "Your Body's Callin."'
A week ago, R. Kelly released a new song to Chicago radio station WGCI-FM. In the song, "Heaven, I Need A Hug," he knocks his detractors and says he hopes to regain his fans' support.