The cry of "Play Ball!" soon will echo throughout the land.
From Little Leaguers to major leaguers, the Great American Pastime again will come alive.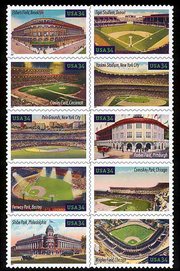 Last year the U.S. Postal Service issued a fitting tribute to baseball's "Legendary Playing Fields" with a series of stamps that featured the home sites of teams long remembered and forever cherished.
Depicted were: Crosley Field (Cincinnati), Ebbets Field (Brooklyn), Comiskey Park and Wrigley Field (Chicago), Yankee Stadium and the Polo Grounds (New York), Shibe Park (Philadelphia), Fenway Park (Boston), Forbes Field (Pittsburgh), Tiger Stadium (Detroit) and Sportsman's Park (St. Louis).
Each one of these ballparks has moments that live in sports history.The Polo Grounds, razed in 1964, was at one time home to the Giants, Yankees and briefly the Mets. The entire 1921 and 1922 World Series were played there.
Ebbets Field, gone from the diamond scene, made history when on April 26, 1939, the first televising of a major league game took place there.
Shibe Park was badly damaged by fire in 1971 and torn down in 1976.
You can still order these stamps by calling (800) STAMP-24.
More like this story on Lawrence.com