Los Angeles — Russell Crowe was named best actor Sunday at the Screen Actors Guild Awards for his role as delusional math genius John Nash in "A Beautiful Mind," a win that could boost his chances to win back-to-back Academy Awards.
Halle Berry won for best actress as the widow of an executed death row inmate who becomes involved with one of her husband's guards in "Monster's Ball."
Crowe won the lead-actor Oscar last year for "Gladiator." If he wins for "A Beautiful Mind," Crowe would be the first actor to win two straight Oscars since Tom Hanks won best-actor for "Philadelphia" and "Forrest Gump" in 1993 and 1994.
The guild awards provide a good glimpse at how the Oscars might shake out on March 24. In SAG's seven previous awards shows, 11 of 14 lead-acting recipients went on to win Oscars, including last year's best-actress winner, Julia Roberts for "Erin Brockovich."
"I want to thank the entire cast," Berry said. "Any actress knows that she is only as good as the cast that surrounds her. They are so good, and every single day, they forced me to grow, to learn and to be better."
"Gosford Park," Robert Altman's combination murder mystery and class-war satire, won for best ensemble film cast.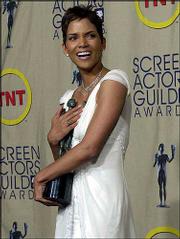 Ian McKellen won the supporting-actor honor for his turn as the noble wizard Gandalf in "The Lord of the Rings: The Fellowship of the Ring."
Helen Mirren took the supporting-actress prize as a coolly efficient housekeeper in "Gosford Park."
The acting honors closed the final big weekend of Hollywood awards before the Oscars. Chosen by the Screen Actors Guild's 98,000 members, the awards are given in five film and eight television categories.
"The West Wing" swept the dramatic television awards. Martin Sheen won for best actor and Allison Janney for best actress, while the show's cast won the ensemble acting prize.
Megan Mullally and Sean Hayes of "Will & Grace" won top acting honors for a comedy TV series. "Sex and the City" won the cast award for comedy show.
More like this story on Lawrence.com