New York — Vanilla Ice was iced by Todd Bridges. Bonaduce banished Barry. Then Tonya pounded Paula.
Airing Wednesday night, the Fox TV special "Celebrity Boxing" (more aptly described as "When Has-Beens Go Bad") provided an answer to the question, What should you do with the formerly famous?
Of course! Let them beat each other up.
At least some of the fighters saw stars in the ring, even if viewers didn't. The matchups, taped last week at a Los Angeles TV station, were billed as official three-round contests. (Although the studio audience heard two conflicting rulings from the judges for each contest, so the official outcome wouldn't get out before airtime.)
Ring announcer Michael Buffer got things started with his trademark "Let's get ready to rumblllllllllle!"
"Brady Bunch" alum Barry Williams squared off against wiry Danny Bonaduce, late of "The Partridge Family." After getting knocked down repeatedly, the paunchy former Greg Brady threw in the towel in Round 2.
"I wasn't hurt," insisted Williams. "I was dazed."
Then the mostly forgotten rapper Vanilla Ice, who is now (little) known as Rob Van Winkle, battled Todd Bridges, who played Willis in the 1980s sitcom "Diff'rent Strokes." After Van Winkle got more than a rapping through three full rounds, Bridges won the match in a decision.
Then came the dangerous divas: a rough-looking Tonya Harding and grinning Paula Jones (a last-minute replacement for "Long Island Lolita" Amy Fisher, whose parole board forced her to withdraw).
Jones became a household name after claiming Bill Clinton made an unwelcome sexual advance on her in 1991. In 1994, figure-skating champ Harding was involved in a bungled plot to disable rival Nancy Kerrigan. She later pleaded guilty to conspiracy and was banned for life by the U.S. Figure Skating Assn.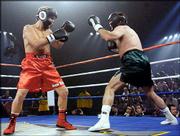 But that doesn't mean she can't box. After the first round, during which Jones was competitive, Harding walloped her rival. The fight was stopped in the third.
"She did well," Harding said afterward. "It wasn't a cat fight."
Replied Jones, who maybe couldn't have been a contender, "I gave it my best shot."
"Celebrity Boxing" did score a knockout in Wednesday's national Nielsen ratings. It was the most-watched show at 8 p.m. CST, drawing 15.6 million viewers.
The show-biz fisticuffs beat a repeat of NBC's "The West Wing" (14.4 million), CBS's "The Amazing Race" (12.6 million), and ABC's comedy block of "The Drew Carey Show" and "The Job" (8.0 million).
Fox had no comment, but network insiders say that there will be a second entertainer-pugilism special.
More like this story on Lawrence.com