Baldwin — Artist Wilfredo Torres looks over the more than 650 small ceramic pieces entered in this year's Orton International Cone Box Show at Baker University.
He knows his job as one of the show's three jurors will not be easy.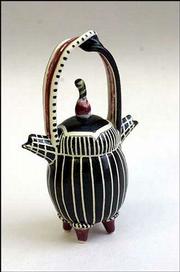 Delicate porcelain teapots fashioned in Manhattan sit alongside a rugged stoneware grenade from Massachusetts and a whimsical violin-playing rabbit created in Quebec.
Earth-toned works sit next to pieces painted with radiant, multicolored glazes. The styles range from traditional to contemporary. The subject matter fans from abstract to representational to figurative.
Their commonality: Each work is no larger than 3 inches by 3 inches by 6 inches, the dimensions of the Orton Standard Pyrometric Cone Box. Ceramic artists use pyrometer cones for monitoring the temperature inside a kiln during the firing process.
"This show is important," said Torres, who teaches drawing, composition and three-dimensional art at Altos de Chavon School of Design in the Dominican Republic. "It's more difficult for the artists to reduce their works down to this size. There are two problems: the creation and the size. The image is big, but the size is little. The solution is complicated."
Joining the Cuban artist as jurors are Mitsuo Shoji, Japan, and Inge Balch, an art professor at Baker University who has served as curator of the show since 1994.
Balch said this year's show has entries from about 20 countries, including Austria, Switzerland, Holland, South Africa, Puerto Rico, Cuba, Korea, Taiwan, Denmark, Sweden, Great Britain and Australia.
"We have a lot of strong pieces," she said.
The artworks will be shown March 26-April 12 in the Holt-Russell Gallery at Baker University. An opening reception will be at 7 p.m. March 26.
"It's really an honor for the university to host an international art show of this magnitude," Balch said. "Not only will work from around the world be judged by a distinguished panel, the show also has strong roots in this area."
The Cone Box Show was started in 1975 by Bill Bracker, an art professor at Purdue University. Bracker moved to Lawrence in 1977 to teach at Kansas University and brought the show with him. The show was discontinued in 1979. Bracker left KU and began his own production of pottery.
The Cone Box Show lay dormant until 1993, when Balch and Jim Nabors, then registrar at Baker University, approached Bracker about reviving the show. Bracker was thrilled with the idea and served as a consultant to Balch and Nabors until his death later that year.
The Cone Box Show was shown in 1994 at Baker University, where it has been presented every other year since then.