New York — Leather jackets and mohawk hair cuts mixed with tuxedos as the Rock and Roll Hall of Fame opened its doors Monday night to honor punk rock's first generation, along with Tom Petty, former teen idol Brenda Lee and "Shaft" maestro Isaac Hayes.
The Ramones and Talking Heads, whose careers germinated during the mid-1970s in the Manhattan dive bar CBGB's, were considerably more uptown at the Waldorf-Astoria for the induction ceremony.
Pearl Jam lead singer Eddie Vedder sported a mohawk as he inducted The Ramones. He said his new look was due to frustrations at world events and "I took it out on my own hair."
Vedder said the Ramones were a blueprint for a new generation of rockers and recalled the first time he saw the band.
"It was terribly frightening and totally blissful at the same time," said Vedder, who swilled a bottle of wine during his speech.
With a rapid-fire, three-chord (or less) guitar attack, the four New York City friends in the Ramones kicked rock's complacency with exhilarating, fun songs like "Blitzkrieg Bop," "Rockaway Beach" and "I Wanna Be Sedated."
The timing of their induction is bittersweet, since gangly lead singer Joey Ramone died of cancer last April.
Country guitar picker Chet Atkins, who died last June, early 1960s hitmaker Gene Pitney and Stax records co-founder Jim Stewart also joined the hall.
Petty, a Floridian now based in California, wrote hits like "Refugee," "The Waiting" and "Free Fallin'." He's being joined by his longtime backup band, the Heartbreakers, although he's also worked solo.
Wallflowers singer Jakob Dylan, whose dad, Bob, played with Petty briefly with the Traveling Wilburys, was scheduled to induct him.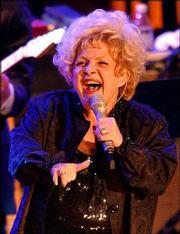 A true teen idol, Lee recorded her two best-known songs � the ballad "I'm Sorry" and the holiday standard, "Rockin' Around the Christmas Tree" � before her 16th birthday.
Singer Jewel inducted Lee, saying she always kept a rock-and-roll growl in her voice no matter what style of music she explored.
Lee flavored the moment in a three-song medley that included "I'm sorry."
"I feel like Cinderella at the ball," Lee said. "It is a long way from the Georgia cotton field to the Waldorf Astoria."
Grammy winner Alicia Keys, not even born during Hayes' early 1970s heyday, was to induct the veteran soul singer.
The spoken-word passages and smooth, orchestrated backing to a lothario's boasts on his best-known hit, "Theme from Shaft," predated both rap and Barry White.
The Talking Heads began as arch, minimalist rockers with the song "Psycho Killer," then flowered in the early 1980s with funk influences on the hits "Once in a Lifetime" and "Burnin' Down the House."
Lead singer David Byrne and his three band mates, bitterly estranged, were to put their differences aside for a two-song performance at the induction.
Swing guitarist Brian Setzer and country singer Marty Stuart were to induct Atkins.
The Rock and Roll Hall of Fame is in Cleveland.
More like this story on Lawrence.com