Johnette Napolitano was tormented by waking nightmares.
"A friend of mine summed it up perfectly: 'What happened to you is like before an earthquake when the cockroaches and animals and turkeys all get weird.' That's the best way that it could possibly be put," Napolitano remembered. "I was just flipping out. I couldn't sleep. I knew I was gonna die."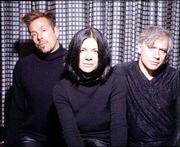 Last summer, prior to the events of Sept. 11, the Concrete Blonde singer was so gripped by an ethereal fear that she "completely cracked up." Not knowing how to deal with it, she sought comfort from guitarist Jim Mankey, her former bandmate and songwriting partner of the past two decades.
"I wound up at Jim's house," she remembered. "And out of nowhere � Jim hadn't even seen Harry (Rushakoff, drummer) in eight years � we both went out to see him in rehab. We knew it was something that had to be done. We had to play together again."
Napolitano wasn't the only one to experience apprehension before the terrorist attacks ("There were a lot of people who were having nightmares and just panicky and not knowing why," she claimed), but she was probably the lone person to use it as a springboard for a musical reunification. So with the yin came the yang, and after eight years apart, the estranged Concrete Blonde released its first album of new material � one appropriately titled "Group Therapy."
Whatever the peculiar reasons leading up to the reunion, the result seems to have made quite an impression on the legion of fans that remember Concrete Blonde as among the best of the college-rock acts to precede the alternative boom of the early '90s. Already the ensemble has enjoyed sell-outs during a string of larger-venue shows. And "Group Therapy" has garnered favorable reviews from the national press, even if there are implications that the aggressive group has "mellowed slightly."
"It's not a negative thing at all," Napolitano responded. "I wish the whole world would mellow slightly (laughs). Being content is not the same thing as complacent. We're putting it all out there this time. We came off the road after the first two weeks and needed to stay in bed for three days. It was just so intense every night."
What: Concrete Blonde, Steve Wynn and the Miracle 3When: 9 p.m. todayWhere: The Beaumont, 4050 Pa., Kansas City, Mo.Ticket price: $22Ticket information: (816) 561-2668
Not bad for a trio whose members are all in their 40s.
"There's no adolescent anger or being pissed off at your parents � all those things that you're feeling in your 20s," she said. "You're just in a different place in your life. And it's a great place to be ... We're grownups. You don't lose the innocence of your spirit. But we're taking responsibility for ourselves now. It's like, 'Let's do it the way WE want to do it this time.'"
Delivering a mood
A three-piece (Napolitano is also the band's bassist) that never got pigeonholed into one style, Concrete Blonde was one of the rare harder rock groups in the late '80s to be fronted by a female singer. Napolitano's undeniable voice � gritty, passionate, honest to a fault � would place her in elite company in any era, let alone at a time when only The Pretenders and Eurythmics seemed to be capable of getting airplay.
Beginning in 1982 as the act Dream 6, Napolitano and Mankey (a veteran of the cult band Sparks) kicked around the L.A. club scene for five years before landing a contract with I.R.S. Records. While its self-titled debut yielded the punky MTV hit "Still in Hollywood," Concrete Blonde didn't crack the top 20 until its 1990 album "Bloodletting," which contained the plaintive anthem "Joey."
"Jim read me some review that said 'Joey' was about 'Joey Ramone, my former lover.' And I've never even met the man. That's the first thing written about us I didn't laugh at."
On "Group Therapy," Napolitano endeavors to embrace her past and present. The standout track "When I Was a Fool," contains the ruminative lines: "I walk through the airport and read magazines/Every face that I see so much younger than me/And I drink and I think how I don't even miss/My glorious past or the lips that I've kissed."
Throughout the moody dirge, Napolitano's commanding voice comes across as less dramatic than in years past but equally effective. The same can be said of the group as a whole.
"A big difference we noticed about all of our playing is that we don't have to prove our chops on every damn track and every damn verse," she said. "I think I oversang a lot of stuff in the old days. Now I lay back in the band. I'm more interested in delivering a mood of a lyric.
"I used to beat myself up for one bad note. And part of my growth this time is like, 'You hit a bad note? So what. You don't think about all the great things, the heights you hit.' There were transcendental moments during the set, but I used to come off only remembering the bad note that I hit. That's not really the way to look at life in general."
One other thing the vocalist has learned is that wrapping her identity solely in Concrete Blonde was never a healthy approach. After the act wound down to a close in 1994, she found a variety of interests to consume her time. As she had done on the band's penultimate release "Mexican Moon," Napolitano further began to explore Latin music. She's now a serious flamenco student; her instructors actually opened for Blonde on its previous tour. She studies pottery and art, making frequent forays to Mexico to display her work. And up until recently, she owned an art gallery in her L.A. neighborhood until the cost of operation became too demanding.
"I have a wonderful life outside of rock music," she said, confirming that the nightmares ended months ago. "I'm achieving things that have nothing to do with (the band) yet have everything to do with it. When you grow personally, you bring something back to the collective. We have our own success. Now we're doing it on our own terms. I'm not letting that get away from us again."
More like this story on Lawrence.com