London — Former Prime Minister Margaret Thatcher has suffered a series of small strokes and is retiring from the public lecture circuit, her office said Friday.
Thatcher, 76, canceled a speaking engagement at her doctor's instructions Tuesday night after falling ill that morning.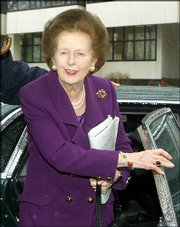 "Over recent months, Lady Thatcher has suffered a number of small strokes," her office said.
"After thorough investigation involving a number of tests, her doctors have told her that these can neither be predicted nor prevented. They have therefore told her to cut back her program at once and in particular to avoid the undue strains that public speaking places on her.
"With great regret she has decided to abide by this advice and to cancel all her speaking engagements."
A spokesman added that she would not give another speech � "ever."
She was resting Friday at her home in London, her office said.
Earlier this month, she turned down an invitation to travel to the Falkland Islands to mark the 20th anniversary of the war between Britain and Argentina because of her husband's poor health.
She was to have been guest of honor at the celebrations on June 14 but said the journey would be too much for her 86-year-old husband, Denis.
Carol Thatcher disclosed in January that her mother had suffered a minor stroke during the Christmas-New Year holidays.
The Times newspaper reported that the incident came during a 50th anniversary celebration in Madeira with her husband, and that she had been treated at a hospital.
Thatcher, who was prime minister from 1979 to 1990, had stirred new controversy this week with the publication of a book, "Statecraft," in which she called for Britain to withdraw from key institutions of the European Union.
More like this story on Lawrence.com