Los Angeles — Milton Berle, the acerbic, cigar-smoking vaudevillian who eagerly embraced a new medium and became "Mr. Television" when the technology was in its infancy, died Wednesday. He was 93.
Berle was diagnosed with colon cancer last year and had been under hospice care for the past few weeks. Berle's wife, Lorna, and several family members were at his side when he died at home, publicist Warren Cowan said.
"Uncle Miltie" was the king of Tuesday nights in the late 1940s, and store owners put up signs: "Closed tonight to watch Milton Berle."
At 8 p.m., four Texaco service attendants sang the "Texaco Star Theater" theme, and then came Berle, dressed for laughs: a caveman introduced as "the man with jokes from the Stone Age"; a man in a barrel "who had just paid his taxes."
If the audience thought he looked funny in a dress, Berle was happy to oblige, and skits in drag became a trademark. The NBC program's popularity spurred sales of television sets and helped make TV a medium for the masses.
Berle was called the "Thief of Bad Gags" and even joked about stealing quips. "I laughed so hard I nearly dropped my pencil," he once said of a rival comedian, and he stopped at nothing for a laugh.
"Good evening, ladies and germs," Berle would say to his audience. "I mean ladies and gentlemen. I call you ladies and gentlemen, but you know what you really are."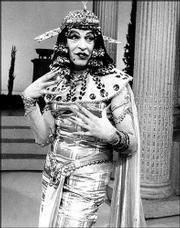 In his debut season in 1948, Berle's show was watched on four out of every five sets in the nation, and he was the new medium's highest-paid funny man.
The magic faded in the '50s, and afterward, Berle played fairs, night clubs, college campuses and the private Friars clubs in Beverly Hills and New York. In 1983, he was among the first seven inductees into the TV Hall of Fame of the Academy of Television Arts and Sciences.
Young start
Born Mendel Berlinger in New York's Harlem on July 12, 1908, Berle remembered his mother, Sandra, bouncing him on her knee and telling him, "Make me laugh."
Berle's first taste of show business came at age 5, when he won a vaudeville contest by imitating Charlie Chaplin. Soon he was doing child leads in films with Mary Pickford and Mabel Normand, and was the kid rescued from the railroad tracks in the nick of time in the Pearl White movies.
He appeared with Chaplin and Marie Dressler in the movie, "Tillie's Punctured Romance," and with Pickford in "Rebecca of Sunnybrook Farm."
His Broadway debut came in 1920 in "The Floradora Girl."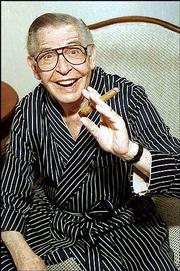 In 1936, Berle was a headliner with the Ziegfeld Follies. He played a long run with Earl Carroll's Vanities and began bringing his brand of humor to radio with guest spots on humor shows. He also appeared in several minor film comedies, such as "New Faces of 1937" and 1949's "Always Leave Them Laughing" (based on his autobiography). But he never really made it on the big screen.
'Mr. Television'
Then came the advent of television.
Berle was signed as host of the first show of a variety series � the "Texaco Star Theater." He was supposed to alternate with several other hosts, including Henny Youngman and Morey Amsterdam, but Berle drew so much fan mail that NBC soon gave him the spot permanently.
Berle's hour-long "Texaco Star Theater" began June 8, 1948, and was renamed "The Milton Berle Show" before it ended in June 1956.
He won an Emmy for the program, which was truly his own.
He made more movies in the 1960s, notably "It's a Mad Mad Mad Mad World" in 1963. Other films included "The Oscar," "The Happening," "Who's Minding the Mint?," "Where Angels Go, Trouble Follows," "For Singles Only," "Hieronymus Merkin," "Lepke" and "The Muppet Movie."
In 1984, he played himself in "Broadway Danny Rose."
More like this story on Lawrence.com