"I don't have this real soft edge to me," Keith Loneker said. "The bald head, the goatee, the earrings, the tattoos � it all leads toward bad guy."
Thankfully, for the former KU football standout and current Lawrence resident, Hollywood has welcomed his intimidating demeanor. His third national film project finds its way to the screen this weekend � the small screen that is. The made-for-TV movie "Big Shot: Confessions of a Campus Bookie" premieres at 7 p.m. Sunday on the FX channel.
"Big Shot" recounts the true tale of Benny Silman, the college student who masterminded a point-shaving scam with the help of Arizona State University basketball star Stevin "Hedake" Smith during the '93-'94 season. Both men served prison time for the scheme, joined by a cadre of organized crime figures who colluded with them.
In the film, the 6'4", 300-plus Loneker portrays Big Red, a drug dealer who muscles in on Silman's action. Through coercion, he pushes the bookie and his point guard to fix additional games.
"The character was a true-story guy, but there wasn't a lot to him," Loneker explained. "He had a lot of money and a lot of power. But he drank water; he didn't party. It wasn't like I had the opportunity like David (Krumholtz, who plays Silman) did to get drunk and act silly and really show some color. I was supposed to be real calm, almost sedated the whole time while everybody else was having fun � until the very end where I kind of lose it."
Prior to "Big Shot," Loneker established his cinematic footing in the Oscar-nominated "Out of Sight" with George Clooney and Jennifer Lopez. Loneker played the clumsy henchman White Boy Bob in the seductive heist film, and got to work with A-list director Steven Soderbergh. He also made an appearance as a British roadie in last summer's "Rock Star," though most of his scenes were cut.
"This is the first movie where I actually had a lot of dialogue," Loneker said of his latest endeavor. "That was very odd for me. I didn't go to the acting classes at KU. I don't really know anybody who does what I do here. So when I want to practice my lines and work on it, I just have my friends. And those are about the worst dialogue-reading guys I've ever been around in my life."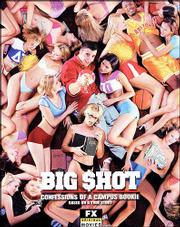 Making connections
Loneker got hooked up with "Big Shot" through George Clooney's stand-in, Joe Coyle, whom he met while on the set of "Out of Sight." Coyle suggested to a friend in the casting company that he had "the perfect guy" for the role of Big Red.
"So far, none of my movies I actually got through an agent," Loneker said. "I did my own deal."
The project paired him with charismatic actors Krumholtz ("The Mexican"), Nick Turturro ("NYPD Blue"), Jennifer Morrison ("Dawson's Creek") and Alex Rocco ("The Godfather"). And it allowed him the opportunity to work with director Ernest Dickerson ("Bones"), the acclaimed filmmaker who first came to prominence as Spike Lee's trusted cinematographer on the pictures "Do the Right Thing" and "Malcolm X."
Upon meeting Dickerson, Loneker discovered they shared an instant connection.
"He grew up in New Jersey about a half mile from me," the actor recalled. "He said, 'You lived in Roselle Park? Yeah, I grew up right in Roselle on Walnut Street.' So we knew all the same places and stuff."
Dickerson's kinetic style is apparent throughout "Big Shot," with point-of-view scenes that echo his best work with Lee. But he also proved to be a whiz with actors as much as the camera.
"Coming from a football background, you want to know exactly what you got to do before you can get on the field and execute," Loneker said. "Whereas in acting, it's kind of different. They want to give you the freedom to try different things. So I would always ask Ernest if I could try stuff. And he would say, 'Keith, just try whatever. I want to make sure this (element) gets conveyed. But however you want to do it, just do it.'"
Now with a trio of films under his belt, the actor is beginning to memorize his lines as efficiently as he once did his playbook.
"I'm learning the system," the 30-year-old said. "With 'Out of Sight,' everything happened so fast. I remember getting my call sheet and not being able to read it. In football, you be there at 7 a.m. If you're not there, you're fined. But this thing had all these different directions: 'Your trailer is here. Be at makeup at such and such time.' I was like, 'Makeup? What the hell do I need that for?'"
A close shave
As much as "Big Shot" functions as an entertaining biopic, it also deals with some serious topics concerning morality in sports � themes Loneker is quite familiar with. The former offensive lineman played for Kansas University from 1989-'93 (thrice earning All Big Eight honors), then spent four seasons in the NFL, walking on with the Rams and finishing his career with the Falcons.
Asked how he would've reacted if he found out a college teammate was shaving points, Loneker said, "I'd want to know what was in it for me (laughs).
"The shaving points thing, I don't see the harm in it. You don't lose games. Really, you're manipulating a system that's manipulating you every day. It's funny because with gambling and the point spread, people found ways to make money off of athletes. With shaving points, athletes found ways to manipulate what they were doing and make the money right back. They've banned the shaving of points in which you still win, but they haven't banned the actual gambling on the sports."
For further emphasis, he put a current spin on the topic.
"Like be Drew Gooden right now and imagine seeing Drew Gooden jerseys all over the place," he said. "Drew ain't getting rich off that. Those people are not wearing the chancellor's jerseys."
Sympathetic to the ethical dilemmas faced by the participants, Loneker took an interest in the actual incident on which "Big Shot" is based. He even got to spend some time with Benny Silman, though not in person.
"He was still on house arrest," Loneker said. "I don't think he could leave his house until January (he was originally given a 46-month sentence). I got to talk to him on the phone. He was pretty funny and seemed like a great guy."
ESPN will dedicate an episode of its investigative series "Between the Lines" to Silman's story, which will air at 6 p.m. Sunday (channel 48) prior to the movie's debut.
FX has spent a lot of time and effort promoting this film (about every other commercial break features a clip of the flick, usually involving a shot of Loneker waving a 9 mm pistol in Krumholtz's face). The network has launched a splashy print campaign that exploits the film's eye-catching poster (that's Loneker at the bottom left) in magazines such as Sports Illustrated's swimsuit issue.
"FX is trying be more like HBO by creating hip, quality movies," he said. "They're buying big billboards in L.A. They're really trying to do more than just the typical thing."
So far there are no other FX film offers coming Loneker's way, but he continues to find acting work to complement his other interests, which include being CEO of Lawrence hip-hop and R&B; label Lock-N-Load Records. From sports to film to music, Loneker seems to be finding a niche for himself.
"About a year ago I even toyed with the idea of doing some standup comedy," he said. "It just seems like I'm an entertainer. I don't try to be, but everything I pop up into has something to do with entertainment. With entertainment, you're just in the thick of things. You're staying young. You're always around what's hip. I think that's going to pay dividends with my kids, because I'm always going to be in touch with exactly what's happening in the world and not just get it three years later on '20/20.'"
More like this story on Lawrence.com