The Aquila Theatre Company will perform a pair of classical plays next weekend at the Lied Center. "The Tempest" will be performed at 7 p.m. Saturday and "The Wrath of Achilles" at 2 p.m. April 7.
"The Tempest," by William Shakespeare, begins when a raging storm forces a disparate band of shipwrecked survivors onto the shores of a magical island.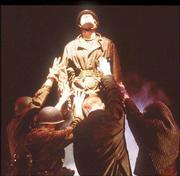 The play analyzes human behavior as the castaways strive for Utopia. Set in a metaphoric world, the magician Prospero skillfully manipulates three groups of lost travelers as they plot and conspire for supremacy of the island.
"The Wrath of Achilles" is based on Kansas University professor Stanley Lombardo's translation of chapters 16-19 of Homer's "Iliad." It tells the story of the Greeks' near defeat at the hands of the advancing Trojans, Achilles' stubborn refusal to fight in the war, the tragic death of his friend Patroclus and the great hero's eventual return to the battlefield to face the might of the Trojan warrior Hector.
"The Tempest" runs about 2 hours and 15 minutes, with one intermission. "The Wrath of Achilles" is about 1 hour and 25 minutes, with no intermission.
The Aquila Theatre is an equity-touring ensemble based in New York and London. The group of eight to 10 performers has toured across the United States and in Canada and Europe.
The group has performed in Lawrence twice before: Aristophanes' "Birds" in the spring of 1997 and Homer's "Iliad" in spring 2000.
Tickets range from $11 to $27. Tickets are available at the Lied Center Box Office, 864-ARTS; Murphy Hall Box Office, 864-3982; Student Union Activities Box Office, 864-3477; Ticketmaster outlets, (785) 234-4545 or (816) 931-3330; and online at www.tickets.com and www.TicketMaster.com.
More like this story on Lawrence.com