If you think you've been seeing a familiar face on television and the movie screen, you're right.
Carson Elrod, who graduated with honors from Kansas University in 1997 with a degree in U.S. history, has appeared in the movie "Kissing Jessica Stein," in commercials for Wendy's and IBM and on the TNN television show "Lifegame."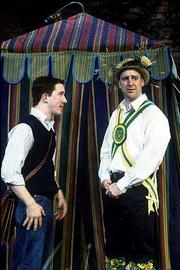 He's also in rehearsal for the New York City premiere of Alan Ayckbourn's new plays "House" and "Garden," which will run May 31 through Aug. 4 at the Manhattan Theatre Club.
"People have been calling and recognizing me. It's getting exciting," Elrod said during a phone call from New York City. "The commercial taught me a lot about America's relationship with TV. I'm helping to sell chili with Wendy's and people say, 'You've made it'."
Elrod made his mark in Lawrence partly because of his comic wit. He was a member of the comedy-improvisational troupes Waiters To Be, Single White Males and Hypothetical Seven.
"Theater was something that just happened," he said. "I was a pre-law and politics major when I came to KU."
He auditioned for a University Theatre production because a close friend had moved away and he needed something to do with his extra time.
"KU gave me a respect for acting and the theater," he said. "The professors at KU are amazing in that all of them are passionate and excited about theater and � what it can do in a young person's life."
One of the first plays Elrod appeared in was "The Heidi Chronicles." He had not taken any acting classes and was struggling with his part. Jack Wright, a KU theater professor who saw his anguish, approached him and asked if he wanted to talk about the play.
"A half hour turned into a three-hour meeting in which we discussed the play and were going over scenes," he said. "That's the kind of professor that's at KU."
Getting in the door
By the end of his time at KU, Elrod had been bitten by the theater bug. He was accepted into New York University's Tisch School of the Arts Graduate Acting Program, one of the nation's top theater programs.
From 8:30 a.m. to 1 p.m. six days a week, he studied Afro-Brazilian dancing, voice, dialect, Shakespeare, improvisation, different styles of performance and every other aspect of theater. He also acted in at least a dozen shows.
At the end of his third year at the university, he participated in an industry showcase, put on by the Tisch School and Yale University.
"It's like produce shopping for agents," he said. "Both shows had a sell-out crowd."
The agents are given a list and the portfolios of the actors, and can check the ones they want to interview or receive more information about. Elrod received a number of inquiries.
At the end of his third year, he spent six weeks at the Sedona Shakespeare Festival in Sedona, Ariz., where he played Mercutio in "Romeo and Juliet" and Feste in "Twelfth Night."
Also that summer, he went to New Hampshire to do a workshop of "Cavedweller" with Michael Greif, who directed "Rent." Greif and Elrod hit it off, and that fall they paired again to do "Our Town" at La Jolla Playhouse in New York City.
And the calls and job offers kept coming: "Comic Potential" at Manhattan Theatre Club; the indie film "Kissing Jessica Stein"; TNN's "Lifegame"; and commercials for Ameritech, Wendy's, Arthur Andersen Consulting, TGIFridays and IBM.
Before doing his on-camera commercials, Elrod did a number of voice-overs for Hardee's, Royal Caribbean Cruises, Pepsi and Absolut Vodka.
Looking to the future
Elrod said his stints in film, television and commercials showed him a different side of acting.
For movies, he said, "what you do at auditions is what they want you to do on camera."
"In theater, you know the audition is not the finished product and that you'll explore the character," he said. "In a movie, you don't have time to do that. � There are no rehearsals for scenes. I had never acted before in front of people without three or four rehearsals. I showed up on the set and got directions. Everyone's on the clock, and all that's going through my mind is terror."
"Lifegame," which ran last fall, was an adaptation of the Off-Broadway play in which trained actors took audience members' life experiences and turned them into comedy routines. Also, celebrities such as Ice-T and Nancy Griffith told stories, which were then re-enacted by Elrod and other members of the cast.
Elrod is now working at the Manhattan Theatre Club, where Nathan Lane, Kevin Spacey and Sarah Jessica Parker have played.
"When I walk across the stage, I feel an adrenaline rush and a commitment to support young talent and new plays," he said.
"House" and "Garden," which runs on separate stages, have the same characters and the same actors. The cast rehearses from 10 a.m. to 6:30 p.m. each day.
"These plays are exciting," he said.
"When an actor leaves the stage, they don't go and smoke a cigarette, because they're doing another play."
Elrod already is looking for something new to do.
"After 'House' and 'Garden' � I think I might move to L.A. for a year to see what happens," he said. "I know some improv people there."