Friday, November 15, 2002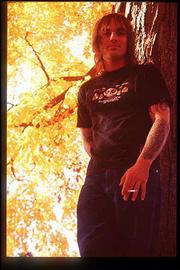 For hundreds of Flaming Lips shows that he's worked as a roadie, Kliph Scurlock hasn't had to set up a drum kit.
He's set up the mic-mounted micro-camera. He's ran the video screen. He's prepped all manner of other instruments on stage, but usually Scurlock's only duty drum-wise has involved a backing tape of recorded percussion.
That is, until a couple months ago when the Lips' frontman Wayne Coyne asked the Lawrence musician to start setting up his own drums for the band's tour with Beck.
"When this Beck thing came up, Wayne was like, 'Hey, we'll get you in. Why don't you play drums for Beck?' Scurlock said with his usual chill demeanor, on brief break from tour at his house in East Lawrence.
"So I started doing that. And then Wayne was like, 'Yeah, maybe we should have you play drums with us, too.'"
He pumps his fist and lets out: "YES!! Aw, I've been waiting for this for 10 years!"
For almost as long as Scurlock's been waiting on the dream, the Lips have been a three-piece -- Coyne, Steven Drozd and Michael Ivins. Scurlock is the first person to man the kit on stage for the band since Ronald Jones left in 1996.
"It's a great story, isn't it?" said Coyne, calling from Austin, Tex., where the band just finished taping an appearance on "Austin City Limits." "For him to come at it like 'I don't want to be a star, I just want to help you guys out.' And now he's drumming for Beck and us at the same time."
Adding Kliph on drums was only natural, said Coyne, and will likely last beyond the Beck tour.
"I can't see us purposely stopping anytime soon just because it's so much fun having him up there playing with us," he said.
"Kliphord just loves music so much that he glows with enthusiasm. He's a great musician, but his greatest quality is that he's such a shining example of how a human should be, that he's just a joy to be around."
Clever Beck
The Beck/Flaming Lips tour -- one of the most unique tours since the Run DMC/Aerosmith collaboration -- seems to have happened more out of convenience than anything else.
Apparently, the solo artist Beck had grown tired of the repeated hiring and firing process of each tour's supporting band.
"So being the clever lad that he is, he said, 'I'll just call up a band that's already a band and I'll stand in front of them and we'll do Beck's music, and they can be them and I can be me.' And he doesn't have to hire and fire anybody," Coyne explained.
Scurlock said working with Beck has been quite comfortable, especially given the unusual blend of two singular artistic visions.
"For as flamboyant as he is on stage, he's really shy," Scurlock said. "We were rehearsing in L.A., and for the first week or so he always seemed really nervous around us. He's completely loosened up now."
While most of Beck's material a la Lips does not radically deviate from the album versions, Scurlock said the band did intentionally re-work a few tunes -- notably "Nicotine & Gravy" and "Get Real Paid" -- on a day Beck missed rehearsal.
"Those were a couple songs that we intentionally stripped down to nothing and then built back up," he said. "When we played 'Get Real Paid' for him, he was like 'That was really cool! What was it?'"
FLAMING kLIPh
Before Scurlock became a roadie for The Flaming Lips during the band's 1999 "Soft Bulletin" tour, he was thoroughly infused with Lawrence's music scene. During the early '90s, he played with literally dozens of bands around town, including Panel Donor, Cocknoose and The Glitter Kicks.
Scurlock's mother Linda -- who played drums in Estrella, an all-female mariachi band from Topeka -- got him hooked on music at a very young age. When he was 8, Scurlock lost his mom in the 1981 catastrophe at the Hyatt Regency Hotel in Kansas City. Estrella was performing at a wedding when a 4th floor walkway collapsed, killing 114 people.
"She was a kind, dear woman who, as I said, bestowed upon me the love of music," he said.
For some time, his primary passion would develop independent of Lawrence's scene in Topeka while going to Seaman High School. When he was 17, his friend Shane Murray -- of Truth Cell these days -- took Scurlock to The Outhouse.
"I met (guitarist) Bob Cutler there, and eventually joined Slackjaw," Scurlock said. "We toured in '91 and that's when I was like 'Yes! this is what I want to do. This is awesome!'
"It's what I've been doing since," he said.
He's done some other stuff, too, along the way, like baby-sitting.
At a mutual friend's wedding, Loni Hosking first met her eventual baby sitter with her 5-month-old daughter Leena on his shoulders. Not long after, Hosking was looking for a baby sitter and Scurlock volunteered.
"I was like, 'Why do you want to baby-sit my little girl?'" Hosking laughs. "He was tattooed from head to toe -- it just seemed so strange. Why would a punk rock kid want to baby sit?
"He said 'I don't know. I just like kids.' I think he shuffled his feet and was hanging his head; you know how Kliph is," she said. "I think he was drawn by the beauty of a baby, you know, because babies are such deliciously yummy love creatures."
"He was a great baby sitter. (But sometimes) he would take her up on campus because she was a babe magnet. But without a blanket or sunscreen, so she'd come back all pink. I'd have to tell him 'Kliph, don't cook my baby!'" Hosking recalls.
Leena Hosking -- who's now nine -- remembers Scurlock teaching her the lyrics to "She Don't Use Jelly," the 1993 song that put The Flaming Lips in the Top 40.
"I used to sit on his lap and he took my hands to drum to the music. That was my favorite song," Leena said. "If I tried to sing it now I wouldn't get the words in the right order."
At Saturday's show, she'll take cues from her baby sitter and the rest of the Lips -- though as Leena's mom points out "to her he'll always just be Kliph, not a rock star."
On the road . . . again
One of the last bands Scurlock would join in Lawrence was one of his long-time favorites: Kill Creek. Scurlock played drums with the band only briefly, until the drummer before him returned in 1994.
"I was really bummed over that at the time because I was a huge Kill Creek fan. They had records out and were touring," Scurlock said. "But then it wasn't too long after that that Scott (Born) decided he was sick of touring, and so it's all ended up working out. I don't have to beg to go on tour now."
Hardly. Being on the road with the Lips means just a few weeks at home a year. Scurlock hasn't even had a chance to unpack his boxes at the house he moved into with Nick Colby and Eric Melin (of Ultimate Fakebook) back in August.
"As much time as we spend together you'd think that you'd start hating them or finding character flaws," Scurlock said of the Lips. "But no, they're some of the greatest people I've ever met. It's made me enjoy their music even more knowing they're just really genuine, cool people who love music.
"I'm living my dream at the moment. I'm not sure how long it'll last, but if Wayne said to me tomorrow that he didn't want me to play drums anymore, I'd go back to just being a roadie no problem. I mean, I'd be disappointed to not play with them, but I love those guys and their music so much that I'm just glad to be around them."
Kliph's career
Here is a list of regional and national acts Scurlock has played with: (* denotes bands he was officially in.)
¢ Beck
¢ The Beefeaters (studio only project)
¢ Be/Non
¢ Chainsaw Kittens (1 show only)
¢ Cinemagic (recording only)
¢ Cocknoose*
¢ Coco Candissi
¢ Contortion Horse*
¢ Dumb*
¢ Everest
¢ Flat Black Nova
¢ The Flaming Lips (?) ("Don't know if I'm in for sure or not")
¢ The Get Up Kids (one soundcheck only)
¢ The Glitter Kicks*
¢ Half Price Stars
¢ Kill Creek*
¢ Let's Rodeo
¢ Panel Donor*
¢ The Paris Gun* (new band with Steven from the Lips, Cory Franklin and Greg Kurstin who's the keyboard player on this Beck tour)
¢ Power Supply*
¢ Rohypnol Rangers*
¢ Rooster Blastoff
¢ Shiner (one song only)
¢ Sixteen Deluxe
¢ Slackjaw*
¢ Sleeztax*
¢ Snailherder*
¢ The Sunshine Fix (recording only)
¢ 34 Satellite (recording only)
¢ Truth Cell (bass for a month)