Tuesday, November 26, 2002
Las Vegas — Jethro Bodine intends to prove he's no fool.
Max Baer Jr., who once played the burly, doltish character on "The Beverly Hillbillies," recently signed a deal with International Game Technology of Reno to produce hundreds of penny slot machines featuring the show that once drew millions of loyal viewers.
"It's so obvious it's not a gamble," Baer said in a recent interview at his Las Vegas home. "It fits in. It meshes with the characters and the show."
After nine years in prime time and 30-plus years of syndicated and cable broadcasts, most everyone knows how Jethro's uncle, Jed Clampett, went shootin' for some food and struck oil in the Ozarks. So the Clampett family - Jed, Elly May, Granny and Jethro - loaded up the truck and they moved to Beverly ... Hills, that is ... swimming pools ... movie stars.
If Baer, 64, hits his jackpot in the casinos, he wants to strike gold in supermarkets with bakery goods, such as Elly May's buns, Granny's lye soap and perhaps Jethro's sausage.
Tapping into "The Beverly Hillbillies" has been a long time coming for Baer, who left the movie and television business in 1979 and moved to Lake Tahoe, where he now has a second home.
He spent years after the show ended trying to shed the Jethro persona that resonated with America and doomed his acting career.
Baer, a college graduate with a degree in business and philosophy, could not escape it any more than viewers can forget the show's catchy Flatt and Scruggs theme song.
Fans loved the classic rags-to-riches story, giving it top ratings and longevity. The show aired from 1962 to '71, ranking as the No. 1 prime-time show in America its first two seasons. And now CBS is even planning a reality TV series patterned after the show.
Baer earned about $4,500 an episode by the time the cast disbanded, good money but not enough to call it a career at 33.
Typecast as dumb Jethro, Baer found little work as an actor. Finally the 6-foot-4-inch, 225-pound Baer, the son of 1934-35 heavyweight boxing champ Max Baer, stopped fighting the hillbilly hex.
"What happened was I turned 50," he said. "I was about as much in demand as cancer. If I have to be Jethro, I'll be Jethro."
Roger Camras, Baer's business partner of more than 30 years, said that the turnaround was surprising because Baer had tried to distance himself from Jethro for so long.
"Max is far from dumb," Camras said. "He's very intelligent. Max is a marketing genius. He saw the popularity in it. It's going to go on forever, just like Elvis."
Baer obtained certain licensing rights to "The Beverly Hillbillies" from CBS in 1991. His initial venture was an attempt to build Jethro's Beverly Hillbillies Mansion & Casino in Reno replete with Granny's Shotgun Wedding Chapel.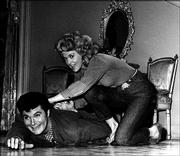 The plan fell through after he couldn't get the necessary financing, but Baer holds out hope the casino will be developed.
In 1999, IGT approached him about a deal to make the slot machines. Now 65 machines are creating a buzz in 10 Station casinos around Las Vegas.
Baer doesn't think the anticipated success from his venture will change him that much, though.
"Maybe it will get me a date," he said.