Friday, November 29, 2002
While most rock musicians are scrambling to fit rap and digital samples into their repertoire, Joe Satriani has stuck with what he knows best: guitar. And there's no argument that the man truly knows it.
The Grammy-nominated artist first came to prominence as a "guitar teacher to the stars," with Steve Vai, Metallica's Kirk Hammett and Counting Crowe's David Bryson spreading kudos as pupils. Soon, however, the teacher had become renowned on his own, following the 1987 release of his platinum-selling "Surfing With the Alien."
Although he's spent time filling in as a member of noted bands (Deep Purple) and as a sideman for other stars (Mick Jagger, Alice Cooper), Satriani has never lost concentration on his main focus as a solo artist. With his latest, "Strange Beautiful Music," the 46-year-old New York native has crafted one of his most dynamic albums in years, and has actively taken over the reins as producer. The project showcases his instrumental mastery while evincing a much deeper leaning toward songwriting.
In other words, it's flashy without being trashy.
Fresh from performing the national anthem at the Seattle Seahawks-Kansas City Chiefs game on Sunday, the guitarist is en route from his Bay Area home to the airport to kick off his next leg of the tour. Within hours he'll be back at work delivering more "Strange Beautiful Music."
How did you first get hooked up playing the national anthem for sports teams?
"The A's had actually been asking for years, and I had such a fear of doing it. Because I kept thinking it's such a hard one thematically to grapple with, since I grew up with Jimi Hendrix's two versions in my head.
"I think we were on tour a couple years ago in San Diego and the Padres asked me ... I came close, but I asked Stu (Hamm, bassist) if he'd do it instead. I remember watching him on TV and thinking, 'If Stu can do it out there with a bass, and people can take this new interpretation, maybe I should say yes the next time.'
"Since then I've been invited by the San Francisco Giants and 49ers and Oakland A's, and now the Seattle Seahawks. It's always exciting."
In terms of pop culture, is the guitar as significant as it was 10 or 15 years ago?
"No. I think every modern instrument that we think of goes through waves of popularity. It goes a bit quicker than it used to now, because the context in which we hear music is so numerous. When I started learning how to play guitar, it was hard to find rock music. There was no music television, other than 'The Ed Sullivan Show' or 'Sonny and Cher.' That was hardly what was really happening in the music world. It WAS counterculture; now it's not. Now Led Zeppelin sells Cadillacs. Now rock music is heard more on video games than actual CDs."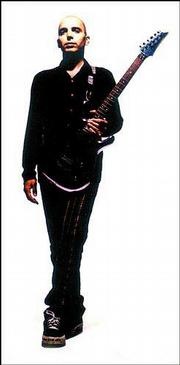 Your guitar skills are indisputable, but how do you rank your songwriting?
"I never really bother being judgmental like that. I learned that from Lennie Tristano when I was taking be-bop lessons from him when I was 17. He said, 'Kids from suburbia have this subjunctive disease: They're always worrying about what they should have done, what they could have done and what they would have done. They're never concentrating on what they want to do.'
"Ever since then, I've decided I'm not going to be judgmental, I'm just going to do what I want to do. It's kind of an ongoing catharsis."
When is the last time you taught a guitar lesson?
"I wound up doing that quite a bit on tour with contest winners. And I've been teaching my son guitar. It's always something I'm doing once or twice a month."
Do you feel like it helps your own playing?
"I did when I was teaching full time. Because you have to consistently gather information, distill it and make it understandable in a very short period of time. That process is helpful because you wind up explaining it to yourself. It aids in the digestion of new ideas."
What is the worst live show you've ever played?
"That would be the Malaysian show we did about a year and a half ago. It started four hours late, so we went on at four in the morning. It was in this stadium that holds 100,000 people. But it was raining so there were only about 2,000 people there. Before us there was Sugar Ray and Jethro Tull - just the weirdest group of bands ever. It was a two-day festival.
"Anyway, someone wakes me up at 3:30 a.m. and says, 'You're going on in a half hour.' I get down there, I'm in the middle of the second song - which is 'Satch Boogie' - and the army comes on stage with machine guns. They threaten to put us in jail unless we stop immediately. So I put down my guitar, picked up my backpack, left the stadium and flew home."
What is the most misunderstood aspect about the guitar?
What: Joe Satriani, Ned EvettWhen: 8 p.m. WednesdayWhere: Uptown Theatre, 3700 Broadway, Kansas City, Mo.Ticket price: $31-$41Ticket information: (816) 753-8665
"That technique is diametrically opposed to feeling. When people say, 'What's more important: technique or feeling?' You can't even answer that question, because it's so screwed up. If you're listening to something and you're feeling it, that means technique is at work. If you're listening to somebody and you're not getting it, that means technique is wrong. Let's not give the word a bad name.
"The idea is to move people with your music, and you can't think that technique is on the opposite side of that. Technique is actually working to make that happen."