Mother and son Pam and Dave Loewenstein work in two vastly different corners of the art world.
Pam Loewenstein spends hours bent over her potter's wheel, forming wet clay into mugs, bowls, plates, jars, then applying colorful glazes. Her finished pieces line her studio shelves and often end up in other people's kitchens.
Dave Loewenstein devotes weeks, sometimes months, to creating massive, color-rich murals. His finished works � almost always crafted cooperatively with help from community members � grace the exterior walls of buildings and become bold community landmarks.
Yet despite their difference, the artists share more than just a last name. They also share a studio.
"It's great to have her around," Dave said of his mother. "As an artist, you need another pair of eyes to look at your stuff. She's an incredibly deep thinker, well-read. She always brings a new perspective."
Their common work space � a white cinder-block building adorned with dynamic murals at 411 E. Ninth St. � will be one stop on next weekend's Lawrence ArtWalk, the annual self-guided tour of Douglas County artists' studios, galleries and other art spaces.
The event gives exposure to the area's many talented artists and provides the public with a chance to chat with artists in their own creative work environments.
"We want prospective patrons to talk to the creators of the artwork that we hope they will buy," organizer and photographer John Wysocki said.
Several studios not normally accessible to the public will be open during the ArtWalk, and many artists will offer demonstrations of their crafts.
Pam, for instance, will work at her wheel as visitors cycle through her studio.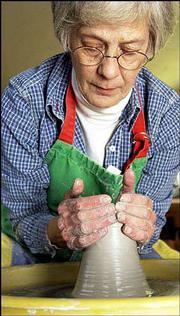 "It's always fun to see who shows up," she said. "The kids, especially, are just sort of awed to watch a piece of clay come up and turn into something."
Dave, most of whose work is very location-specific and not created in the studio, predicts he'll spend most of his time during the ArtWalk talking to people who are curious about how and where he works.
He lived in Hutchinson this summer, where he painted a 32-by-140 foot mural on a prominent downtown building. Though his murals adorn Lawrence structures � like Cordley School � he does most of his work these days out-of-town, out-of-state and even overseas.
Nonetheless, he will have a few items for sale at the ArtWalk.
The eighth annual self-guided tour of artists' studios, galleries and other art spaces will be from 10 a.m.-6 p.m. Saturday and noon-5 p.m. Oct. 27. The event is free.Guide maps will be available at all locations during the event and in advance at the Lawrence Arts Center, 940 N.H., and the Lawrence Visitor Information Center, 402 N. Second St.For more information, check out the ArtWalk Web site at www.sunflower.com/~lawrenceartwalk or contact organizer John Wysocki at 865-4254 or lawrenceartwalk@sunflower.com.
Although Dave is something of an ArtWalk veteran, this will be his mother's first year to take part. More than a dozen first-timers have joined the steadily growing tour this year, Wysocki said.
He has watched the ArtWalk grow from an exclusively downtown event with less than 30 artists to a countywide activity with more than 70 creators.
"There's something for everyone," Wysocki said. "One of the neat things about this is going around and coming across something that is surprising and enlightens you. Even though there's one image per person on the guide map and on the Web site, not until you visit with a particular artist do you discover some unique treasures."
More like this story on Lawrence.com