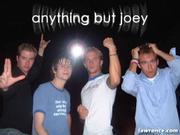 Unsigned local bands NEVER make it into the exclusive playlists of commercial radio.
It just doesn't happen.
Sure, many stations have the obligatory local music show late at night where a few local favorites get some spins. But to get into corporate radio's prime-time rotation, artists need a big-time label giving them a big-dollar promotional push within the industry.
Without that, a band's new album will likely be lost among thousands of others instantly dismissed as 'local.'
Unless you're Anything But Joey.
The Kansas City pop-rock band is willfully unsigned, yet somehow broke into rotation on 96.5 FM The Buzz. In fact, the band's single, "Girl Roommate," has been that station's No. 1 requested song for weeks, edging out the likes of Eminem.
The Buzz's program director, Mike Kaplan, said that Anything But Joey is the likely only unsigned band from this area that has ever reached that mark.
But he said, he didn't feel like he was taking a risk putting them into rotation. "We saw the group's strong local following and felt their sound fit the radio station's target," Kaplan said.
At that point, Anything But Joey didn't even have an album out. Just a demo that found its way into the good graces of Kaplan, explains bassist Drew Scofield.
"Our Web site guy was an intern at 96.5 and he just pushed it to the right people long enough and they really liked it and it went from there.
"That song (Girl Roommate) was written years ago and it's been on a couple Thulium demo CDs," Scofield said, referring to the band's name before they changed it this summer to Anything But Joey.
"The recording we have now is quality enough to be played on the radio and we just finally put it on an album."
The band's full-length debut, "Come Out Fighting," will be unveiled Saturday night at the Granada. And, in the coming weeks, the band hopes its second single, "One," will get some spins on The Buzz.
Although the band's first taste of success has obviously put stars in their eyes, they're not going to jump the gun by signing a record deal or by moving to the rock-star breeding grounds of Los Angeles, Scofield said.
"We're going to try to do it ourselves as long as we can. The bigger we can get on our own, the better deal we can get when we have to get signed in order to go national," Scofield said.
"We're planning to move to Dallas at some point," and eventually to L.A., he said. "Right now, we're just not even ready for that."
Guitarist Bryan Chesen said that just a few months ago, before their music got on The Buzz, it was hard to imagine how the band would ever make it this far. He said since they formed in 1996, they'd been virtually ignored by the local music scene.
"Since we're basically mainstream, Top 40-style music, everybody hated us for it. Plus, at the time we were a little more clean-cut. We just really got rejected," Chesen said.
"We were set to move to Dallas because everybody we know is down there. We were like 'screw Kansas City, we're never gonna make it here.' But we decided to give it one more year because we love Kansas City and we don't want to move. Now we're getting spun. And The Buzz is only going to spin us more and we're only going to get bigger here."
Building on the buzz
The band started playing covers together in high school as Thulium. "Green Day, Live, Pearl Jam, Smashing Pumpkins, Weezer. Whatever was popular at the time," said Scofield.
By the time they had several of their own tunes penned, the band began to falter a bit as some went to school and all of them began to wonder if this band thing was going work.
The critical break came last November when Chesen met Anything But Joey's eventual manager, Bryce Graves. Chesen was trying to book the Dallas band Flickerstick to play in Manhattan (Kan.), and when it looked like the gig might fall through, he was directed to Graves.
"I was told 'This dude can work it out. He can get Flickerstick to come up and play the show,'" Chesen said. "Bryce had never heard of us because we were nobody in November. He met us and he really dug our personal vibe, and our hooks were there but a lot of the stuff that's in our songs now just wasn't there then."
Graves worked with the band informally for a year and eventually hooked them up with producer Jaret Reddick (of another Texas band, Bowling for Soup).
"He just took the songs we had recorded and twisted them all around," Chesen said. "He was like, if this is going to be on the radio, it's gotta be like this. So the songs are dramatically different, plus the difference between spending $800 on the recording or $10,000. No one's going to put anything on the radio that sounds like ass."
The showWhat: Anything But Joey CD release partyWhen: 9 p.m. SaturdayWhere: The Granada, 1020 Mass.Ticket information: 842.1390
Up to that point, the band was making ends meet -- albeit barely -- on playing bars, selling a lot of merch and being very frugal. Then they made a connection with deep pockets.
Graves turned the band's current, Dallas-based lawyer Brian Cuban on to the Kansas band. Happily, Cuban's brother is Mark Cuban -- owner of the Dallas Mavericks and HDNet -- who also happens to be the youngest billionaire in the country.
"Brian's landed us two songs on the soundtrack of a major motion picture do out in the spring. And we've been on Mark's (TV) show. They've helped us a lot just through networking," Chesen said. "And Bryce got Buck McKinney to be our lawyer as well, who was the on staff attorney of A&M; records for over five years.
"Once we found somebody in the business who believed in us, we started working 10 times as hard," Chesen said.
Their hard work and connections have recently landed them some high profile gigs including Late Night with Roy Williams, a spot on the N.B.A.'s Rhythm and Rims tour, and soundtrack honors for the 2003 Women of KU DVD.
"This is a lot of fun now that people know who we are," Scofield said. "A lot of fun. But getting there, man, it took forever."
Tough scene
"It's a hard music scene around here, because not that many people just go out to see bands. They go to see their friends' bands," said Scofield. "It's different in other cities. We went down to Dallas and people go out just to hear live music and that doesn't happen that much around here. I wish it would.
"And most of our crowd is under 21, so that's a problem when most of the bars are 21 and over. I mean, we have a good crowd at those shows, but whenever we get to play an all ages show it's sold out," he said.
"But the scene hates us. They have always hated us. We've never been accepted into the clique. That's why the (demo's) titled 'Secret Club,' because it's a secret club that we could never break into because we weren't friends with the right people and because we play pop rock."
Chesen attributes the scene's elitism and bad vibes to scare support for local music.
"Some of these bands get frustrated trying to achieve just a little fame or recognition and instead of trying to expand outward they close in on each other. Instead of trying to get new people to come see their shows, they kind of bicker amongst the other bands about who's better. It comes off as trashing other bands. That's really shitty because, they are your competition, but they are your industry as well."
"Anymore I don't even think about," Scofield said. "Any of the politics that used to seem so important. Now it's just like, we could care less."
Anything But Joey's website :: www.anythingbutjoey.com
More like this story on Lawrence.com