In Jason Horowitz's mind, one quality above others is required to be a successful chef.
Is it endurance? Vision? A talent for artistic presentation?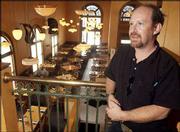 Well, those things certainly help.
But there's one skill that good chefs absolutely must have in their repertoire of talents.
"Consistency. Your customer base, if they like a particular dish, when they order it they want it the same way every time," said Horowitz, 43, the executive chef at Teller's, 746 Mass.
That means every time a dish of Horowitz's lobster ravioli in mustard cream sauce goes out the door, the customer can dependably expect to get the same dish enjoyed last time.
No variations in sauces, flavors or ingredients according to who's cooking that day and what mood he or she is in.
"When you don't have consistency, it drives you crazy," said James Truscello, operating partner and general manager of Teller's.
"Jason is very adamant about the way things are supposed to be done. He really puts in a lot of effort."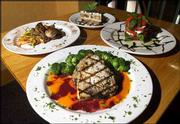 Horowitz, who came on board as executive chef at Teller's in late May, knows just what he wants to accomplish at the 10-year-old Italian restaurant.
"I want to achieve a level of consistency, to have people think of Teller's as a relaxed place to eat and also a place for fine dining," he said.
Experience in top kitchens
It seems like a realistic goal, given Horowitz's background.
Aside from years spent working in the kitchens of restaurants around the country, he's a graduate of the Culinary Institute of America in Hyde Park, N.Y., widely regarded as America's premier cooking school.
In the early 1990s, the Lawrence native worked in all the kitchen positions at the landmark Rainbow Room, located on the 65th floor of the General Electric building in Manhattan's Rockefeller Center.
The Rainbow Room, which seats 400, is the second highest-volume restaurant in the world, according to Horowitz.
He later worked in the four-star, classic French restaurant Jean-George in Trump Hotel & Towers in New York City, owned by world-famous chef Jean-George Vongerichten.
While in New York, Horowitz also worked as a restaurant consultant, helping design menus, organize kitchen staffs and launch more than a dozen restaurants.
His last position in New York was serving as executive chef at Sesso Italian for "sexy" an eclectic, Italian restaurant where he worked from 1999 to spring of 2001.
Then last July Horowitz and his wife, Shelley Skie Horowitz, also a Lawrence native, moved back to Kansas to be closer to family. Shelley Horowitz's mother, Dee Skie, is a lifelong Lawrence resident.
Jason Horowitz's parents are Floyd and Francis Horowitz, who moved from Lawrence to New York City in 1991.
Jason Horowitz, who graduated from Lawrence High School in 1977, is happy to have returned to his hometown.
"It's very quiet and pleasant. Shelley is thrilled to be back. She tolerated New York, but really prefers being here," he said.
Freedom to change
Now Horowitz is trying to transfer his earlier successes in the restaurant industry to his new position at Teller's. It seems to be working.
"Things are getting better. There's more consistency in the way food is being produced and presented. People are being better educated about what it is we're trying to do a more classic southern and central Italian cuisine," he said.
"The food is lighter, the sauces are certainly more consistent. And we pay as much attention to the quality of product as to menu pricing, trying to keep it in a range that is affordable to everyone."
Horowitz and Truscello are constantly fine-tuning the restaurant's menu, trying to capture more Italian authenticity. They're revising the wine list, too.
That's something that Horowitz likes about his work.
"Change is good, and you can always have change (in this business). If something inspires you, just go ahead and do it. If you're tired or bored of something, change it," he said.
Horowitz and Truscello have developed a good rapport with each other, and they try to make things fun in the kitchen for everybody.
"I laugh a lot, just the way that the day goes. People are free entertainment," Horowitz said.