Wednesday, September 4, 2002
Los Angeles — First came "Scooby-Doo," now comes "I do" for Sarah Michelle Gellar and Freddie Prinze Jr.
The couple, who appeared together this summer in the live-action film version of the cartoon "Scooby-Doo," got married Sunday at an undisclosed location in Mexico, their spokeswoman, Leslie Sloane, said Tuesday.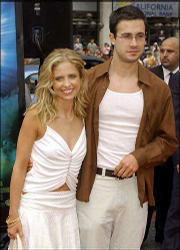 The bride wore a Vera Wang gown and the groom wore a custom-made linen suit, she said. Friends and family attended the ceremony, which was kept a closely guarded secret from the public.
Gellar, star of the UPN series "Buffy the Vampire Slayer," announced the engagement at her 24th birthday party in April 2001.
The couple met on the set of the 1997 teen slasher flick, "I Know What You Did Last Summer." They dated nearly a year before getting engaged.
Both are signed to star in a sequel to the "Scooby-Doo" adaptation, in which Prinze, 26, played brawny mystery-solver Fred and Gellar portrayed sweetheart sleuth Daphne.