Tuesday, September 10, 2002
London — Comedian Jerry Lewis, suffering recently from severe back pain and other health problems, collapsed backstage at a charity show and was unable to perform, the show's master of ceremonies said Monday.
Steven Alan Green, emcee at the High on Laughter benefit at the Palladium theater, announced to the audience that Lewis, 76, would not be able to participate because he was unwell.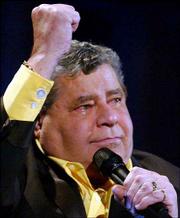 "I saw him collapse backstage out of the corner of my eye," Green said Monday. "He was watching the screen clips of an earlier show of his behind the stage when he just sat back. I hope it's nothing too serious."
The show was raising money for Turning Point Scotland, a drug and alcohol treatment group.
News reports said Lewis was treated in an ambulance behind the theater and then driven to a hospital.
Lewis has suffered back pain so severe that until a recent treatment he was unable to sleep, began losing his eyesight and couldn't walk more than a few feet.
A battery powered pulse generator that delivers electronic impulses to his spinal cord now stops the pain.
He had a bout with spinal meningitis two years ago and was diagnosed with pulmonary fibrosis, an increase of fibrous tissue in the lungs, last year. His lungs may take another year to heal completely, and he has gained weight from a steroid prescribed to treat the condition. He also suffers from diabetes.
More like this story on Lawrence.com