Saturday, September 14, 2002
New York — Former Mayor Rudolph Giuliani has given up his comb-over hairstyle in favor of a straight-back 'do that is winning rave reviews.
The change came a week ago when Giuliani, rushing one morning in the midst of a busy schedule, didn't bother with the more time-consuming coiffure and simply combed his hair straight back, spokeswoman Sunny Mindel said.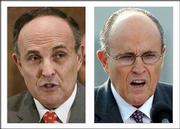 Positive reaction was immediate.
"He liked the way it looked, (girlfriend) Judith (Nathan) liked the way it looked. A lot of people like the way it looks," Mindel said.
Giuliani's new style got a worldwide debut at the World Trade Center memorial ceremony on Wednesday, when he began the reading of victims' names.
Favorable reviews started coming in from the press. The Washington Post dedicated a six-column spread to Giuliani's new look, complete with before and after photos.
The Post praised him for "allowing his naked scalp to rise � unashamed � from a ring of smooth, graying fringe. ... He simply and dramatically has shaken off the image of a door-to-door salesman."
The Daily News and Newsday also praised the new hairstyle and featured photos depicting the old and new Rudy.
"As a man, I applaud it because I think the comb-over is a bad move," Adam Rapoport, a senior editor at GQ magazine, told Newsday. "This seems like a more honest hairdo, which is a good quality in a politician."