Sunday, September 15, 2002
Annette Cook has been grooming herself for the lead role of "Always � Patsy Cline" for decades.
In the 1980s while living in New York City as a struggling actress, she and her friends put together a country-western band called Rock Therapy and played the nightclub circuit.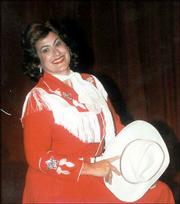 "I started singing Patsy Cline covers," she said. "She has an amazing approach to music."
With her four-octave range, Cook is able to make the vocal transitions needed for "Walkin After Midnight," "Crazy," "Sweet Dreams" and other classic Cline songs that have made "Always � Patsy Cline" a crowd-pleaser. The show runs Friday-Oct. 6 at Lawrence Community Theatre.
Cook, who lives in Overland Park, has appeared in a number of Lawrence Community Theatre productions: "Fiddler on the Roof," "Nuncrackers," "Reunion," "Shayna Maidel" and "Hello, Dolly!"
In "Always � Patsy Cline," she is paired with Lawrence veteran actress Peggy Sampson, who plays Louise, a Houston housewife and avid Patsy Cline fan who becomes the singer's best friend. Their correspondence lasted from 1957 until Cline's death in a plane crash in 1963.
Cook said she believes that if Cline were performing in today's musical environment, she would be a superstar.
"She was strong, versatile and underwent a lot of stuff in her marriage and family," she said. "She was a positive role model.
"Always � Patsy Cline" will be presented Friday-Oct. 6 at Lawrence Community Theatre, 1501 N.H.Show times are 7:30 p.m. Thursday, 8 p.m. Friday-Saturday and 2:30 p.m. Sunday.Tickets are available at 843-SHOW.Opening night: A barbecue buffet, featuring beef, pork, turkey, baked beans, potato salad, coleslaw, lemonade and iced tea, will be at 6:30 p.m. Friday at the theater. Cost is $7. Space is limited so reservations are required. To make a reservation, call 843-SHOW.Art exhibit: Pen-and-ink and watercolor paintings by Jude Johnson are on display in the Gladys Six Green Room during the run of the show.
Cline was a trendsetter and helped break down the obstacles for women in the music industry. Deep down inside, she was someone who loved and believed in herself."
With the use of makeup and costumes, Cook is transforming herself into the female crooner. Bright red lipstick, brown-colored contacts and a red cowboy suit with white fringe help the actress get into character. She also read "Honky Tonk Angel," a book about Cline; watched some films about Cline; and, of course, listened to Cline's recordings.
"Nobody can be Patsy Cline, but I will try to bring my appreciation of her to what I do," she said. "It's totally different doing a person who's real. I can only be me but I can take on the physical characteristics and mannerisms."
Providing music for the show is the Bodacious Bobcats Band, with Steve Westphal, percussion, Denny MacMillan, steel guitar, David Sostarich, bass, and Francene K. Beall, piano. The show is directed by Mary Doveton, managing/artistic director of the Lawrence Community Theatre, with musical direction by Judy Heller.